You may be dreaming of a vegetable garden in the coming season. But you have discovered that the backyard soil is a bit clay and you might think this is the end of gardening. Wrong!
Though there are some trees and shrubs that grow in clay soil, it is difficult for vegetables and flowers growing in the clay soil.
In that case, if you use some organic matters and a blend of the best fertilizer for clay soil, which can easily turn the clay soil into a healthy garden soil.
Therefore, if you are in a hurry and prefer the quality fertilizer then check out the list which includes some top-rated fertilizer for clay soil.

Best Fertilizer for Clay Soil Reviews
Here we have designed this section with top-rated fertilizer and given a detailed review. In fact, this section will let you know how to use these fertilizers and how to narrow down the buying decision. Let's dive into the review.
1. Jobe's Organics 16 lb Purpose Granular Fertilizer
When you are doing organic gardening you may prefer all organic products, right? If so, then we are kicking off with such an organic fertilizer that will give you full satisfaction. Let's explore it!
First talk about the formulation of the pack. Jobe's fertilizer comes with organic substances, plus, it contains Biozome, microorganism archaea, which helps to break down the materials quickly.
Due to the organic contents of the pack, it got the OMRI certification.
It means the product is safe for the environment and pets. Besides, the NPK ratio of the fertilizer is 4-4-4.
Unlike other chemical fertilizers, Jobe's fertilizer helps to prevent plant diseases. Plus, it also works as an insect repellent too. So, within a single pack, you are about to have everything.
Most Liking Features
After applying the fertilizer, it provides quick action to the soil. As a result, soil gets proper nutrients which helps to improve the soil structure. So, you can easily apply the fertilizer to most of the plants.
Probable Drawbacks
The pack emits a strong and unpleasant smell that is quite noticeable.
Key Features
Fast acting fertilizer for most plants
Made of organic contents
Got the safety certification by USDA
NPK ratio is 4-4-4
2. UNCO Worm Castings Organic Fertilizer
There is no best alternative to organic materials to improve clay soil, isn't it? If you think like a pro gardener and prefer worm casting then this pack will serve you most. Let's get it!
UNCO INDUSTRIES has manufactured this pack out of wiggle worm casting. Basically, the pack is full of organic casting. So, its action in the soil is quite evident after a couple of days of mixing.
Moreover, you would be happy to know that the pack has got safety certification, I mean, it is an OMRI listed product.
So, there wouldn't be any issues if you use it in your organic garden.
Besides using it on the garden soil, you can use the worm casting in the potting soil too. Use a handful of worm casting will ensure the nutrients to your houseplants.
Most Liking Features
The main interesting feature of this casting is improving soil microorganism. Thus, it doesn't matter the soil condition, if you mix it into the soil, it makes sure better drainage and aeration.
Probable Drawbacks
It is a slow working fertilizer, that's why it takes a little longer than usual fertilizer.
Key Features
Suitable for indoor and outdoor plants
Made of wiggle worm casting
Slow-release fertilizer feed for long time
Ensures environmental safety and OMRI listed
3. Dr. Earth Organic 5 Tomato, Vegetable & Herb Fertilizer
Are you looking for the best fertilizer for clay soil lawn? If so, then stop your searching right here. Now we are introducing such a versatile fertilizer that can be used on most of the soil.
Those who are patrons of gardening products, they have known the brand Dr. Earth very well. Due to its organic content, it is one of the best fertilizers in the market.
Now check the safety level of the pack. As the pack is blended with natural contents, thus, it got the ORMI certification.
So, you can use these organic fertilizers around pets and animals.
Most Liking Features
The main advantage of having the pack is it doesn't contain any harmful chemicals and substances. For example, it is devoid of GMOs or sewage sludge. Besides, this is a long-lasting pack that you can feed the plant for several months.
Probable Drawbacks
For indoor use, it is susceptible to grow mold and fungus in some cases.
Key Features
Made of 100% organic content
Useful for most vegetables garden
Got OMRI certification
Devoid of GMOs and sewage sludge
4. Simple Lawn Solutions Commercial Grade Lawn Energizer
If you want to restore your lawn soil and grass then you need the best lawn fertilizer for clay soil, right? In this case, Simple Lawn Solutions brought such a quality fertilizer that never disappoints you.
First you may consider the brand value. If so, then we would let you know that this commercial graded fertilizer is from a renowned American brand. In fact, pro gardener and farmer appreciate the fertilizer for improving the lawn soil.
Whatever the size of your lawn, this pack is appropriate for most of the lawn.
From small to large lawn, you can do clay soil treatment since it can cover up to 3200 sq. ft.
The NPK ratio of the pack is 6-0-0. That means the pack is full of nitrogen and the other two phosphorus and potassium are zero. Plus, it contains iron and some micronutrients. As a result, you will notice a quick growth of the grass soon.
Most Liking Features
Regardless of the grass type in your lawn, you can effortlessly use the pack. Besides ensuring the growth of the grass, Simple Lawn Solutions fertilizer will improve the soil structure. Thus, we love the product.
Probable Drawbacks
The price of this liquid fertilizer is a bit higher than the other product in the list.
Key Features
Clay soil treatment up to 3200 sq. ft
Contains high nitrogen, iron and micronutrients
Best fertilizer for all types of grass
Improve the soil profile
5. Dr. Earth 703P Organic 4 Azalea/Camellia/Rhododendron Acid Fertilizer
Brand reliability is equally important while choosing a fertilizer. And if you prefer a brand value because of their quality then Dr. Earth is here. Let's take a look at this fertilizer.
This is another fertilizer from the same brand. We have to appreciate the brand due to their product authenticity. Because Dr. Earth formulated the fertilizer by using all natural ingredients. Thus, it can be considered the best organic fertilizers.
As it is made out of organic contents, it doesn't contain any harmful chemicals.
That's why this fertilizer is also safe to use around people and pets. I mean you can use the pack for both indoor and outdoor plants.
To enhance the soil microbes' activities Dr. Earth uses probiotics, ecto and endo mycorrhizae. That's how it provides the necessary nutrients to the soil and improves soil structure as early as possible.
Most Liking Features
The NPK ratio is 4-5-4, which ensures better growth of plants and abundance production. Plus, it makes the soil bit more acidic which helps to reduce clayness of the soil.
Probable Drawbacks
If the fertilizer stays wet after mixing in the soil, then it emits a bitter smell, otherwise everything is okay.
Key Features
Made of all organic ingredients
Contains probiotic, ecto and endo mycorrhizae
Make the soil bit more acidic
Ensures feeding for couple of months
Things to Consider Before Buying Best Fertilizer for Clay Soil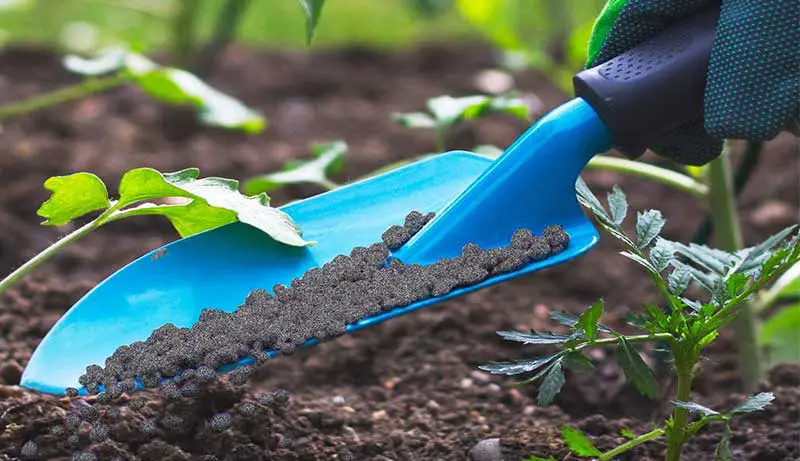 Without understanding the fact about clay soil fertilizer, it would be difficult to pick the best fertilizer. Because there are lots of things you must consider before buying fertilizer.
To make your buying easy, we have put together some of the significant factors of the fertilizer so that you can easily find the best fertilizer for red clay soil. You may also like some of the fertilizer for green beans from our list, so take a moment to check them out.
Manufacturing Materials
A fertilizer can be manufactured by using either chemically or organically. The matter of the fertilizer will indicate the quality of the product. And it also determines the performance of the fertilizer to the soil.
Thus, considering the ingredients of the fertilizer is essential. You should concentrate more on the natural ingredients-based fertilizer to improve clay soil. For more amazing products like this, check out our guide to the amendments for clay soil.
Safety Issues
If you are intending to do an organic garden in the backyard, then you must use a fertilizer that is safe for all such as people and pets around the garden. Plus, you should also ensure that it has no adverse effect to environment.
Now the question is how can I understand whether it is a safe product or not, right? You just need to check whether it is OMRI listed or not. OMRI listed products are organic based and safe for all.
Long Lasting Performance
To improve the clay soil, slow releasing fertilizer works best or the fertilizer which has long term impact on the soil. As a result, slowly it improved the sol structure and made it more vigorous. Though it is not a mandatory factor to see while buying, if the fertilizer has such quality, then it will fuel the soil improvement process.
NPK Ratio
NPK literally stands for N-Nitrogen, P-Phosphorus, K- Potassium. These are the basic soil nutrients that all fertilizer comes with. Generally, nitrogen is responsible for faster growth of the plants and helps in photosynthesis and enhances production. Phosphorus is responsible for blooming and root development. And Potassium ensures fruit development and reduces plant diseases.
So, if your lawn needs to grow turf then you should use high nitrogen-based fertilizers.
Multipurpose Use
Although you are choosing a fertilizer for clay soil, that doesn't mean that you should only stick to the specific pack. If you pick a multipurpose pack then you can use the same pack for different types of soil.
The benefit of using a multipurpose pack is that you can use fertilizers for better growth of the plants and root developments.
How Do I Improve Heavy Clay Soil in the Garden?
FAQs – Frequently Asked Questions & Answers
1. How do I add nutrients to clay soil?
Add some organic contents to the soil that will automatically improve the soil profile. For example, add composted animal manures, forest humus, or add some fish and veggies scraps to soil, which will provide essential nutrients to the soil.
2. Does fertilizer help clay soil?
Yes, it does.
If the fertilizer contains organic matters it helps to improve the soil profile. Besides, a slow-release fertilizer feeds the soil for a long time. At that time, it reduces the soil compaction and ensures aeration.
3. How can I find the best lawn fertilizer for clay soil?
You need to consider some facts to get the right product. First see the organic contents of the pack, then check the NPK ratio and safety issues.
4. What fertilizer breaks down clay soil easily?
So, to speak, organic fertilizer is the best to break down the clay soil. Using some soil amendments can help to break down clay soil such as compost, composted manure, leaf mold and so on.
5. How do you fix waterlogged clay soil?
Waterlogged clay soil needs some organic materials to get rid of such a situation. Adding 2-to-4-inch layers of peat moss, animal manure and compost will improve the soil better.
Final Words
Now finding the best fertilizer for clay soil would be easy for you as you already know what to consider and how to use the fertilizer for soil.
We hope that you will come up with your desired fertilizer for soil and restore your lawn clay soil with quality fertilizer.
Related Post: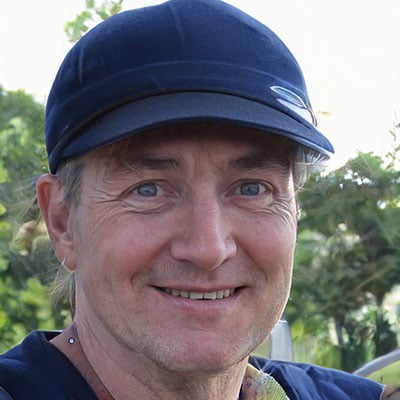 David, the founder of The Garden Fixer, started with a passion for gardening in 2012. He has continued his passion for gardening and desire to improve his skills and wanted to share his journey and helpful knowledge with other like-minded individuals.
He launched The Garden Fixer as an outlet for those interested in learning more about Gardening in hopes they can take what they learn and apply it for themselves!