Garden stakes are essential for your garden if you want to give your weaker plants a chance to grow and thrive.
Primarily, wooden stakes and bamboo sticks are the two most common types of garden stakes. However, you can find stakes made of plastic, steel, and iron as well.
With so many options, picking the best garden stakes for your use can be difficult. But there is nothing to worry about.
This article will go over the current top five garden stakes on the market. Furthermore, we have included a buying guide to help you select the best one for your needs.
Continue reading to learn more about them.

| Image | Product Name | Editor's Rating | Price |
| --- | --- | --- | --- |
| | Tingyuan Garden Stakes │ Beginner friendly | | Check Price |
| | BTSD-home Garden Stakes │ Sturdy | | Check Price |
| | WAENLIR Garden Stakes │ Durable | | Check Price |
| | Galen Panamerica Garden Stakes │ Eco-friendly | | Check Price |
| | Shepherd's Hooks Garden Stakes │ Decorative | | Check Price |
How to Stake a Tree?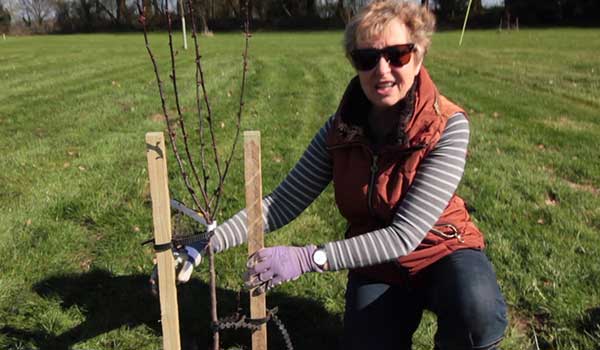 To allow the tree to grow properly, make sure the stake is not too wide and does not shade the trunk. Depending on the diameter of the tree's trunk that you are planting, there are various staking options.
Using Single Stake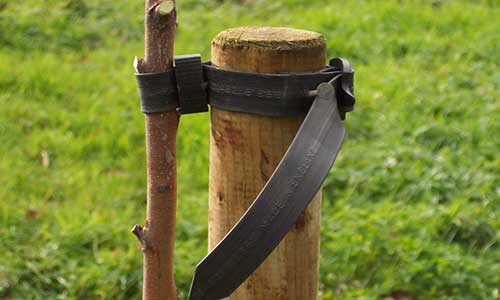 One stake should be sufficient if the trunk of your tree is less than 5 cm in diameter.
Step 1:
Put the stake in after the tree has been planted in the hole. Place it on the side of the prevailing wind and try to avoid piercing the root ball.
Step 2:
To ensure the stability of the stake, it should be buried in the soil at least 60 cm deep outside of the planting hole.
Less than two-thirds of the way up the trunk should be covered by the stake's above-ground portion.
Step 3:
The stake's end should not touch the tree trunk when you attach the strap to it. Continue to plant the tree.
Using Multiple Stakes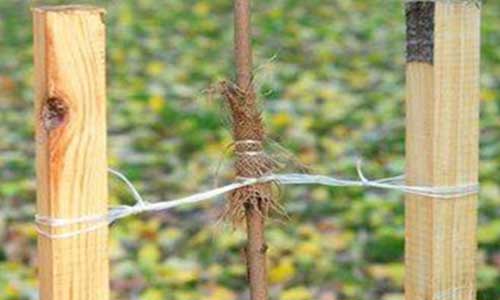 If the trunk of your tree is between 5 and 10 cm in diameter, use two or three stakes.
Step 1:
Insert the tree into the planting hole. Install the stakes on either side of the tree, parallel to the prevailing winds and without piercing the root ball (if possible). If you're using three stakes, make a triangle out of them.
Step 2:
Beyond the planting hole, bury the stakes to a depth of at least 60 cm in the soil. The stakes should not extend more than two-thirds of the way up the trunk.
Step 3:
Attach each strap to the end of one stake, taking care not to injure the plant. Continue to plant the tree.
Using Guy Wires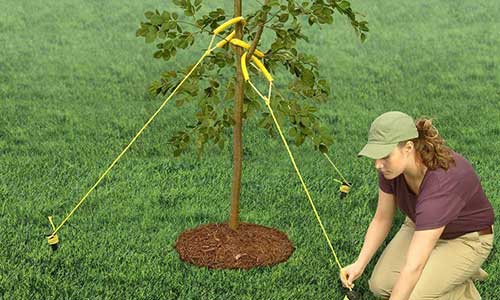 If the trunk of your tree is larger than 10 cm in diameter, you may want to use guy wires.
This entails anchoring three cables in the ground and connecting them with turnbuckles to three other cables (guy wires) that hold the trunk in place.
Anchors can be made of wood or steel stakes. Guy wires should be made of galvanized steel. To secure the guy wires to the tree trunk, use elastic straps or pieces of old carpet at least 3 inches wide. Using grommets will make this process easier.
Step 1:
Place the anchors at a 30° angle in the soil beyond the planting hole once the tree has been planted. Make a triangle with them, equidistant from the trunk.
Step 2:
Attach the guy wires' bases to the anchoring system.
Step 3:
Place the straps along the tree's trunk, parallel to the bottom branches. Pass the guy wires through the eyelets and extend them at a 45° angle out from the tree. Then tighten them so that the trunk can move naturally.
Make certain that the guy wires do not come into contact with the tree. Inspect the stabilization system on a regular basis to avoid damaging the tree.
Garden Stakes Comparison Chart
| Name | Material | Dimension | Application |
| --- | --- | --- | --- |
| Tingyuan Garden Stakes | Steel | 48 x 2.76 x 2.76 inches | Lawn and Garden |
| BTSD-home Garden Stakes | Plastic, Steel | 48 x 3.15 x 2.76 inches | Lawn and Garden |
| WAENLIR Garden Stakes | Wood, Bamboo, Plastic, Steel | 47.5 x 3 x 2.75 inches | Lawn and Garden |
| Galen Panamerica Garden Stakes | Fiberglass | 24 x 0.31 x 0.31 inches | Lawn and Garden |
| Shepherd's Hooks Garden Stakes | Abs, Steel | 35 x 1 x 35 inches | Decorative Purposes |
Top 5 Best Garden Stakes Reviews
This section of the article focuses on an in-depth review of each product. Reading throughout will help you pick a plant stake for your garden.
1. Tingyuan Garden Stakes │ Beginner friendly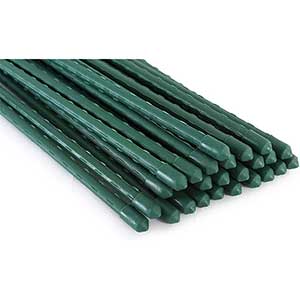 When companies claim versatile adaptable stakes for the garden, chances are the support is a bit off. However, Tingyuan stalks are an exception.
Climber or fruit plants- no matter what it is, you can use these stalks with your eyes closed. Moreover, delicate plants like herbs and shrubs get required support from these stakes. That too, with no worries of bending.
As per building, these garden pegs are rust-proof and weather-resistant, making them excellent for outdoor use. Moreover, these are green plastic coated steel stakes that will blend in beautifully with your garden.
In addition, the ends of each garden stake are sharpened, making it easier to insert them into the ground.
For the most part, Tingyuan is an adaptable stake set for novices. If you are at a learner's level and want some stakes for your lawn gardening, this set will make a decent suit. Besides, you can choose some 75 ft Expandable Garden Hose.
Most liking Features-
Tingyuan is a highly adaptable stake for a variety of plants. It provides order support to both shrubs and climbers.
Probable Drawbacks-
Some consumers find the stake size a bit off.
Key Features
Green coating to blend with the garden
Sharp ends for easy insertion
Apt as both short and tall plant stakes
Beginner-friendly design
2. BTSD-home Garden Stakes │ Sturdy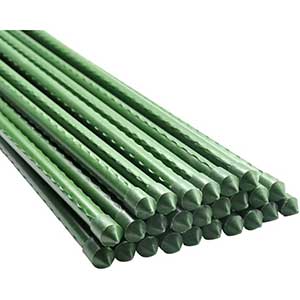 Are you someone who doesn't like their garden stakes visible from afar? If the answer is a yes, then BTSD-home has an all round solution for you.
Just like the previous one, this best garden stakes for tomatoes has a dark green hue. This helps them to blend with the plants leaving no trace for the prey.
The BTSD garden stakes are made of hollow steel, which makes them extremely durable.  It also provides enough strength to support growing plants and trees.
Furthermore, the stakes are rust-proof, which means they will last over time even in harsh weather.
Because of their small size, they are ideal for securing vines, shrubs, and trees. Overall, these garden stakes are strong enough to provide the support that your plants require to grow quickly and healthily.
If you are looking for heavy-duty plant support stakes, BTSD-home is a superior solution. The outcome will not leave you disappointed. Make sure you also check our guide for Wood Chips for Garden.
 Most liking Features-
Superior quality steel has been used in the making of these stakes. For that, there are no chances of rusting.
Probable Drawbacks-
The stake shows subpar performance on rocky surfaces.
Key Features
Study yet bendable for optimal support
Steel built sturdy structure
Sharp edges for convenient placement
Hefty garden stakes for delicate plants
3. WAENLIR Garden Stakes │ Durable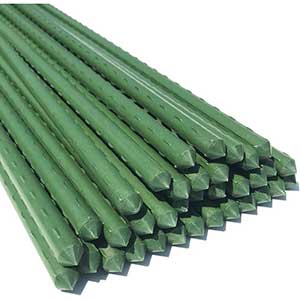 The market for outdoor garden stakes is wide and varied. But when it comes to indoor plants, the options are very limited. Among the few alternatives, WAENLIR stakes stand strong.
Despite being lightweight, these stakes are strong enough. That way, the plants get the support they need to grow and be healthy- both outside and inside the home.
Steel tubes covered in plastic are used to create the stakes. These stakes are not only strong, but they are also UV and chemical resistant, so they can endure any weather and last for a very long time.
Other than that, the garden stake made of Waenlir which is 4 feet tall and 16 inches wide. You can use the 30 sturdy garden stakes that are included in the kit in your garden.
The support that WAENLIR provides to herbs and shrubs is unquestionable. However, these pliable sakes are not apt for fruit bearing plants and climbers.
Overall, the sturdiness and longevity make WAENLIR a much better option than stakes made of wood or bamboo. Check out the most essential Review for Fencing for Garden.
Most liking Features-
The overall built material of the fence stake does not react with pesticides and fertilizers.
Probable Drawbacks-
WAENLIR stakes are highly bendable.
Key Features
Suitable to use both indoors and outdoors
Resistant to UV rays
Sturdy yet lightweight
Flexible plastic and steel blend structure
4. Galen Panamerica Garden Stakes │ Eco-friendly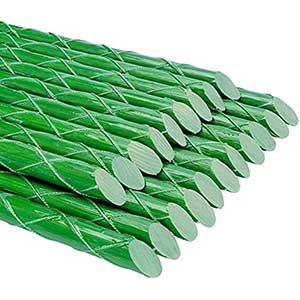 To be true, the market has multiple best garden stakes for every need. Nonetheless, environment-conscious customers often struggle to find garden stakes for plants suitable for use.
Don't be fret! Our team has found a "kind to nature" garden solution for you- Galen Panamerica. This fiberglass garden stake supports your garden plants without harming the environment.
While some might be concerned with the sturdiness of the stake, there is nothing to worry about. These stalks are hefty enough to hold up any plants with a specialization in fruit bearing climbers.
Along with other pros, Galen Panamerica has a rib-like pattern all over the stake. That helps in the luscious growth of climbing plants. However, keep the stakes at a safe distance from lawn lamps and fire.
Now comes the pricing. No denial, the price tag might seem a bit on the higher spectrum. Nevertheless, these garden stalks will last you for a lifetime. Likewise, it is an investment.
Taking durability and economy into account, Galen Panamerica is the way to go. For anyone who cares for sustainability, these lawn stalks will make an ideal pick. Don't forget to check the Wood Mulch for Vegetable Garden reviews.
Most liking Features-
The garden stake is made of fiberglass leaves no worries of rusting.
Probable Drawbacks-
The stakes are not ideal for flowering plants.
Key Features
Made of fiberglass
Not harsh to the environment
Suits a wide range of plants
Rib-like patterns influence the growth of climbing plants
5. Shepherd's Hooks Garden Stakes │ Decorative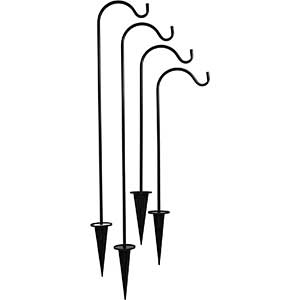 Not everyone is looking for a solid plant stalk for their garden plants. Some consumers are on the hunt for garden stakes decorative. For such demands, our pick will be Shepherd's Hooks stakes.
Shepherd's hooks can be used to hang flowering baskets, lanterns, window chimes, and bird feeders. Gardeners can use garden stakes alongside to keep vegetable plants upright or to help climbing vines grow.
Do you want to attract more wildlife to your garden? Consider adding shepherd's hooks to serve as bird feeders and bird house poles.
Then, hang feeders, nesting boxes, and other bird habitats. That will help to attract feathered friends such as hummingbirds, finches, bluebirds, and others.
Other than that, the coating over these steel hooks is free from rust. That makes Shepherd's Hooks suitable for outdoor usage in a hot and humid climate.
If decorative stakes are your cup of tea, then look no further. Get yourself some Shepherd's Hooks and share your feedback with us!
Most liking Features-
Despite being a decorative stake, Shepherd's Hooks provide ample support to the garden plants.
Probable Drawbacks-
If you are looking for large plant stakes, this is not it.
Key Features
Adaptable for outdoor usage
Suitable for hanging window chimes, lanterns, and bird feeders
Can be used as a birdfeeder
Stainless steel built
Things to Consider Before Buying garden stakes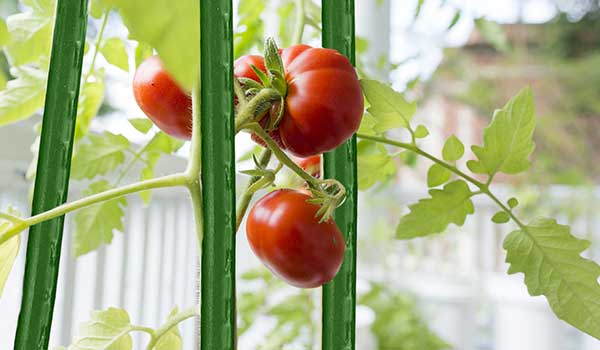 Are you concerned about locating the best plant support garden stakes steel? Have you ever been unsure about which model to buy when it comes to planting support garden stakes steel in general?
Sometimes just knowing you're not alone is enough. The best plant support garden stake can be difficult to come by for many people. Our goal is to assist you in locating it!
Buying guides, reviews, online forums, and word-of-mouth recommendations, can all provide you with product information. Only thorough research can assist you in locating the best product.
Is that correct? Isn't that sometimes difficult? To eliminate your concerns, we have compiled a checklist for finding the garden stakes metal on the market.
Material
Garden stakes are typically made of three materials:
Plastic: Plastic also makes garden stakes. It's durable, cheaper, lasts longer, and comes in many designs. Plastic garden stakes are durable, but they should not be used for heavy support.
Metal: Aluminum, iron, steel, or galvanized steel are used to make garden stakes. Metal garden stakes are sturdier and more expensive than plastic ones.
Natural materials: Garden stakes were once made of bamboo, walnut, etc. Natural garden stakes rotted after a few years. These natural material stakes are still available, but they've been processed to increase their durability.
Thickness of the Gauge
When looking at garden stakes, you'll notice that gauge thickness is frequently mentioned. This thickness is specified in the range of 1 to 40. This number denotes the thickness of the stake. The higher the gauge thickness number, the thinner the stake, and vice versa.
A thick garden stake is better suited for supporting heavy plants or materials because it stands more firmly and is more sturdy. Use a thin garden stake for lighter plants.
Pattern
Garden stakes come in a variety of designs. Although wooden garden stakes do not come in a variety of designs, they are still appealing. Water can also wear down wooden stakes because water destroys wood.
You can use designed garden stakes to make your garden look great while also keeping it upright. Plastic and metal garden stakes are available in a variety of designs on the market. Choose the design that appeals to you the most while also meeting your requirements.
Shape
Stake shapes hold or support various materials. Use square-headed garden stakes for large plants. Square garden stakes reduce wind tearing and support material firmly.
Small plants need round-headed garden stakes. It supports and grows with the plant. Using the right shape is crucial. Choose a garden stake that meets your needs.
Galvanization
Galvanized stakes have hoses that have a zinc layer on them for extra protection. This additional layer stabilizes, firms, and strengthens the stake.
Galvanized stakes are ideal because they do not rust or corrode easily. Furthermore, they are UV-resistant, weather-resistant, water-resistant, and long-lasting.
Bundle or Single?
Buying in bulk is always more advantageous than purchasing a single stake. Garden stakes are typically sold in packs of three or four, but single stakes are also available. Thus, buying in bulk is recommended if you want to save money.
You'll also notice that buying a single garden stake is more expensive than buying three or four in a bundle.
FAQs – Frequently Asked Questions & Answers
1. What height are suitable garden stakes?
Garden stakes should typically be placed at least 4 to 5 cm above the ground. The type of plant you need it for will also affect the ideal length of garden stakes.
2. Are the steel plant stakes solid or hollow?
In most cases, steel stakes have a hollow interior. These hollow makes the stakes easy to use without affecting their efficacy.
3. Would these be effective at supporting ornamental grasses?
Yes.
Since most of the fencing stakes are sturdy, they are not bendable. For that, it is imperative to find a pliable garden stake. Elsewise, you can pick the hook-like stakes for ornamental grasses.
4. Can I spray primer and paint on these?
Yes.
Painting outdoor plant stakes are no difficult task. While painting metal stakes, our suggestion will be to rub the surface with sandpaper for brighter colors.
5. Is plastic safe for food cultivation?
Yes.
Plastic stakes are resistant to water and have a moderate temperature. Thence, there are no chances of it washing off. So, you can use the best garden fence stakes without any worries.
Final Word
You can find the ideal option to meet your needs, depending on whether you need garden stakes that are purely decorative or functional. As you get your garden ready to support the plants you've decided to grow, keep the points above in mind.
Garden and plant stakes are available at your neighborhood hardware store, online retailers like Amazon, or from your neighbors who are either selling them or throwing them out.
Get inventive – you probably already have something you can use for raised garden bed stakes or stakes for a container garden!
What other best garden stakes can you recommend? Any inquiries or advice you'd like to offer can be left in the comments section below.
Cheers to gardening!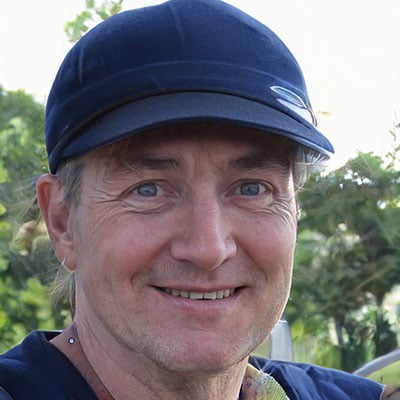 David, the founder of The Garden Fixer, started with a passion for gardening in 2012. He has continued his passion for gardening and desire to improve his skills and wanted to share his journey and helpful knowledge with other like-minded individuals.
He launched The Garden Fixer as an outlet for those interested in learning more about Gardening in hopes they can take what they learn and apply it for themselves!