At the very beginning of the vegetable season, you may think of how to amend the soil. To bring the soil vitality and nutrients back, you should go with some organic content that provides the most nutrients to the soil.
Now the question is which soil food is the best for vegetable gardens. Whether you are growing vegetables, flowers or fruits, one basic soil food for the garden is manure.
Again, you may be wondering what is the best manure for vegetable garden? Well! It depends on the types of vegetables.
However, don't be fret! We have come up with some top-rated bagged manure for gardens so that you can grow maximum crops. Let's check them out!

Best Manure for Vegetable Garden
Here we have designed this section with the selected vegetable manures and provided their detailed specification and use. We hope that it will help you find your desired manure for your garden. Let's dig a bit deeper.
1. Hoffman 5 Pounds Dehydrated Super Manure
The loyal customer always values brand loyalty while buying, even soil food, right?  If you are like that and prefer brand loyalty, then brands like Hoffman will definitely impress you.
Why do we appreciate the Hoffman manure? Because it contains a considerable amount of NPK, which are 4-2-3. The nitrogen level is high in this pack which is good for foliage growth.
Let's talk about the formulation of manure. It is a complete pack of chicken manure.
Hoffman has manufactured dehydrated poultry manure, which comes in a pelletized form. Hence, it would be easy for you to apply the pellet.
The main advantage of having this manure is it enhances the earthworm and other microbes' activity. Besides, it improves the soil structure and increases humus content.
Most Liking Features
One thing we most like about the pack is its small granules. Thus, it becomes easy to apply. Interestingly, you will not find any offensive smell from the pack. Thus, you can use manure for indoor container plants.
Probable Drawbacks
Too much application of manure can burn the plant. So, you should follow the application instructions before applying.
Key Features
Ensures NPK ratio is 4-2-3
Enhance the microbial activities
Improves the soil structure and humus content
It doesn't emit any offensive smell
2. Michigan Peat Best Manure for Garden | 40 lbs
For those who are looking for the manure for garden, which also includes peat moss, there is better-composted manure for them. Michigan Peat is such manure that it will never let you down.
After using the Michigan Peat, we have seen a fast growth of the plants. You can use this peat and manure for fruits and flower gardens along with vegetable gardens.
The main advantage of having this pack is its natural contents.
Michigan Peat has manufactured this pack out of reed sedge peat and compost cow manure. As a result, it provides organic content to the soil, which has natural nutrients.
When we compare the pack with other listed packs, we can see it offers the most affordable price for manure. Plus, the quantity of the pack is quite commendable. Check out the most essential Review for compost for flower beds.
Most Liking Features
The pack is very neat and clean. That means it doesn't contain any weed, sticks or wood pieces. Besides, the manure is quite fresh, soft and dark. Plus, it is quite moist too. But surprisingly, it doesn't stink altogether.
Probable Drawbacks
The peat and animal manure are blending in this pack. So, you can't use the manure or peat separately.
Key Features
It doesn't stink
Applicable for a variety of plants
It contains reed sedge peat and animal manure
Manure is enough moist, soft and black
3. Black Kow 4 lb. (2 Bags) Composted Cow Manure
Whether you are planting vegetables in a container or making a raised bed, if you need organic composted manure, then you are at the right place.
Black Kow brought composting cow manure which contains all organic matter that releases the nutrient slowly.
As a result, this manure never burns the tender roots. Plus, the NPK ratio of the pack is the same for all three.
Black Kow works well on sandy soil. If you are raising a garden bed with sandy soil, you can add a scoop of the manure and see how it enhances the moisture-holding capacity of the soil. Plus, it also helps to provide better aeration of the soil.
Besides enriching the soil, it will ensure the maximum harvest and better taste of the food. So, you can use this pack of animal manure from potted plants to the backyard garden.
Most Liking Features
One of the special functions of this manure is it helps to break down the soil easily. As a result, the plants get proper nutrients and water from the soil. So, you don't think much about watering plants after using them.
Probable Drawbacks
According to the quantity of the pack, the price is a bit higher for this pack.
Key Features
Containing NPK ratio is .5-.5-.5
Made out of animal manure
Enhance the moisture and soil aeration
Never burn the tender roots
Perfect for raised bed or container
4. OMRI Listed – Fishnure 8 lb. Organic Humus Compost Fertilizer
Do you want the best manure for vegetable garden which will work for organic fertilizer, soil amendment and humus compost? Then there is such a versatile pack of manure for you.
You have already understood the organic matter of manure by its name. Yes, it is made of fish manure and some humus compost. So, you can use the pack for outdoor gardens or indoor potted plants.
According to the quantity, the price of the pack seems higher.
However, we must tell you that it is a highly concentrated manure pack. So, within a pound of manure, you can treat 60 sq ft.
Moreover, the long-lasting function of the manure saves your extra penny. Because the organic matter of the pack comes in microscopic clay particles in humus compost that will not further decompose, that means it will stay in the soil for a long time.
Most Liking Features
After using manure for the vegetable garden, we have seen that it considerably reduces plant disease. That means it enhances plant immunity. Besides, it magnifies the soil organic matters, water retention and aeration.
Probable Drawbacks
Though it is made of fish manure, you will find a fishy smell in the pack.
Key Features
Fish manure for a variety of plants
Works as fertilizer, amendment and humus compost
Enhance the organic matters, water retention and so on
The organic content of the manure stays long in the soil
5. Flosage NPKure Dehydrated Chicken Manure Pellets
If you want a pack of manure that can be applied to most of the vegetables, then Flosage organic manure would be worth buying. Let's check out what comes before confirming it.
First, let you know about the formulation of the manure. This pack contains organic chicken manure. Flosage-the manufacturer has used 6 pounds of raw manure to produce 1 pound of pelleted chicken manure.
The main benefit of using this manure is its versatile use. You can use the manure as an alternative to fertilizers.
Moreover, you can use this manure for all seasons around the year.
To ensure the maximum harvest, you must follow the manufacturer's instructions on how and when to use the manure. You will find the application procedure in the product description.
Most Liking Features
Flosage has a perfectly maintained NPK ratio which is 4-2-2. Another thing we like most about Flosage is its customer service. In case if you are unsatisfied with the manure within 90 days, you will get a refund.
Probable Drawbacks
Inappropriate handling of the bag can cause danger such as respiratory issues, and children are more susceptible.
Key Features
It can be used as an alternative to fertilizer
Produce 1 lb pellet out of 6 lb raw manure
Applicable for most of the plants
Make sure the 90 days of the money-back guarantee
Things to Consider Before Buying Manure for Vegetable Garden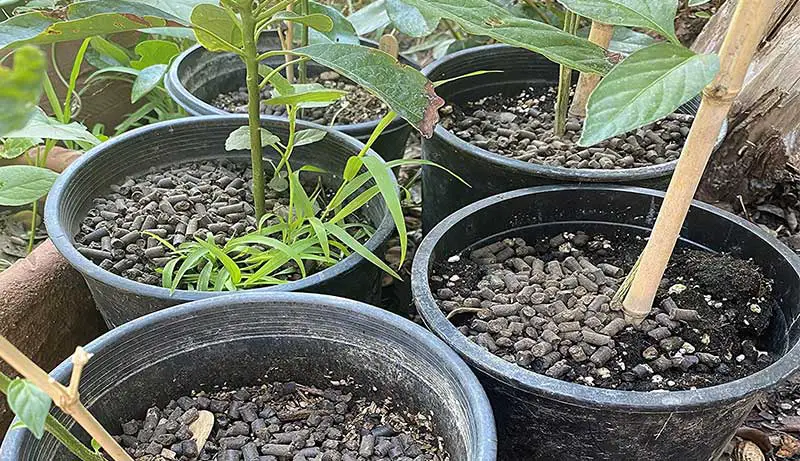 It doesn't matter whether you are a pro-gardener or a newbie in gardening, you must consider some factors of manure beforehand. In fact, it will help you to choose the right manure for the garden.
Thus, we have designed this section with such crucial factors of manure so that you can easily find out the best manure to use for vegetable gardens.
Right Type of Manure
Finding the right kind of manure is essential for the vegetable garden. Because different vegetables demand different manure, so, you must choose the manure according to the vegetable.
There is a variety of manure available in the market. Basically, you will find three types of manure such as animal manure, chicken and fish manure. Plus, there are some packs that come with a blending of different organic matter.
NPK Levels
Having the proper NPK level in a manure bag is mandatory. Because it indicates the nutrient level of the pack, some plants need nitrogen most rather than phosphorus and potassium or vice versa.
In this case, you should check the exact NPK level of the bag that your plants need.
Long-lasting Manure
To go with long-lasting manure is the best way to save your extra penny. And there are some advantages of using long-lasting manure because it melts into the soil slowly and provides a year-long nutrient in some cases.
In this case, you need to choose the pelleted manure, which will last long in the soil because the pellet breaks down slowly into the soil.
Multipurpose Manure
The manure which can be used on most of the plants such as flowers and fruits plants beside vegetables, you should consider buying such a pack. Suppose, you buy a multipurpose pack, which means you don't need an individual pack for each plant. In this way, you can also save a lot more money.
Odorless Pack
Bagged manure is supposed to emit an offensive smell as it is made from raw manure. If the manufacturer doesn't process the pack properly, then it will stink.
However, you will find some odorless packs in the market which will never emit any offensive smell. And the odorless feature is always mentioned in the product description. So, you should take a look at the odor.
FAQs – Frequently Asked Questions & Answers
1. When to add manure to vegetable gardens?
If you want to crop in the spring season, then you need to add some fresh manure in the early fall. Because you should consider the manure as a soil conditioner, not a fertilizer, if you do so, the soil will have some time to improve the structure.
2. Which type of manure is best for your garden?
Chicken manure is the best manure for vegetable garden. Because it contains high nitrogen that most vegetable plants need. However, the manure should be well composted and aged due to prevent root burning.
3. Can I use this bagged manure as an alternative to fertilizer?
Yes, you can.
In fact, using the bagged manure is better than using any kind of chemical fertilizers. Because most manure consists of organic matters, that would be good food for plants.
4. How can I choose the best manure for flowers?
First, you must choose the type of manure. In fact, animal manure is best for a flower garden. It contains NPK and other nutrients that help to improve soil structure. So, when choosing the manure for the flower, you must check the NPK rate and cow, sheep, goat or chicken manure according to the plants.
5. What vegetables don't like manure?
The root crops don't like manure, such as radish, carrot, swede, turnip. Plus, the onions don't like the manure as well.
Final Words
How you amend the soil with good manure will determine the overall health of the soil and better harvesting. So, you should not compromise the quality of the manure.
We hope that you have already found the best manure for vegetable garden since you have gone through the entire article.
Related Post:
Don't forget to check the wood chips for garden reviews.
For more must-have products for your garden, check out our selection of the soil for beans.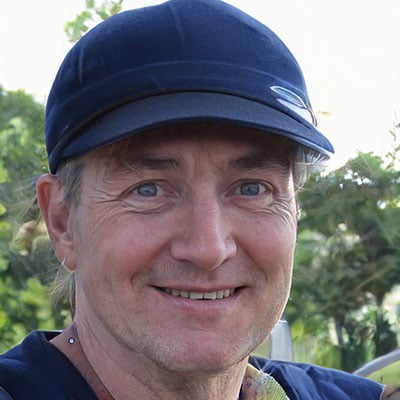 David, the founder of The Garden Fixer, started with a passion for gardening in 2012. He has continued his passion for gardening and desire to improve his skills and wanted to share his journey and helpful knowledge with other like-minded individuals.
He launched The Garden Fixer as an outlet for those interested in learning more about Gardening in hopes they can take what they learn and apply it for themselves!