If your garden is unsecured and you are facing the depredation of destructive animals, you must do something about it. The best way to ensure your garden's safety is to put a fence around it. Fences can be your barrier from intruders, protector of insects, and blow off the outrage of animals indeed.
You can fence your beautiful garden by yourself. Here I'll tell you how to build a garden fence to keep animals out. So be cautious while reading and try to learn it.
Some Known Animals that Ruin Your Garden
There are many animals that like to munch the tasty fruits and vegetables. Your pets can also become one of your annoyances in terms of safeguarding your garden.
Cats, cows, dogs, goats, deer, rabbits, voles, woodchucks, squirrels, chipmunks, groundhogs, poultry, wild birds and many more animals are normally can be a danger to your garden. If they can get through, they will completely destroy your whole lawn and cherished plants.
See Also: Different types of Fencing for gardens and their uses.
How Do Animals Harm Plants?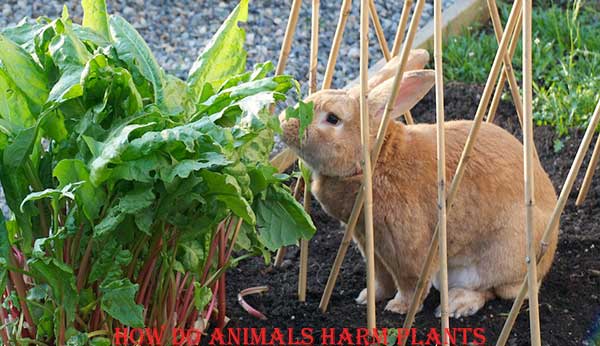 Animals deflower the plant's beauty and degrade healthiness. The plants you cared for and paid for, become moribund and your garden becomes perished if it is attacked somehow.
Deer damages trees often, they normally brow new leaves to eat them. Cows, goats, rabbits, squirrels are fond of eating the leaves from plants and trees. They also tore up the fruits and veggies at random and munch them.
Your dogs and cats can run through the garden accidentally and ruin everything. They can tear everything apart inside the garden and harm the rest of the lawn area too.
Animals that live down inside the ground like rabbits, groundhogs, raccoons etcetera become a great problem for gardeners. They can't be controlled by pasting and trapping for sure. You can not control their multiplicity.
What You Could Do Otherwise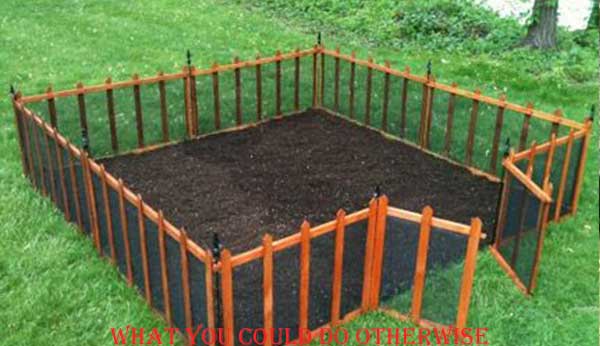 Study shows fencing is considered to be the greatest idea in the case of garden protection. You could use roll cover over the plants but that is way too time-consuming every day. You could spray some stinky mixture but that would not be good for your eatable veggies and fruits. Also, they can pongs your flowers forever. This is preferably not good for your sweet-smelling garden.
Fencing is the only option you have. So you must learn how to build a garden fence to keep animals out of your precious garden area.
See This: Top 5 Trellis for Cucumbers reviews & buying guide.
How to Build a Garden Fence to Keep Animals Out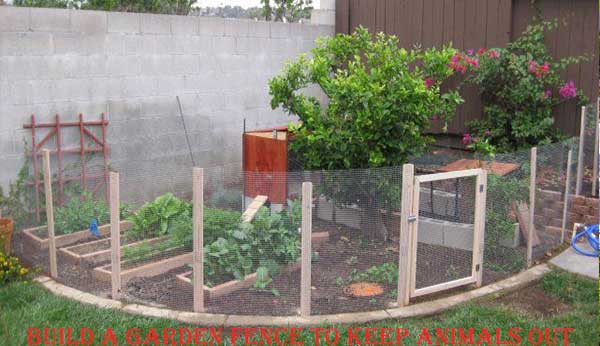 There are many types of garden fences. Iron fences, electric fences, wooden fences, bush or hew fences etcetera. A fence's length, depth of digging inside the ground, height, mesh size all depend on the animals you are trying to get rid of.
But as you want to keep all the animals out, so a wooden-wired, average heightened hog-wired garden fence would do your job. Besides this type of fencing costs less and lasts well.
Also Read: Get a good quality Electric Fence Wire from our lists.
The Process of Making a Hog Wired Garden Fence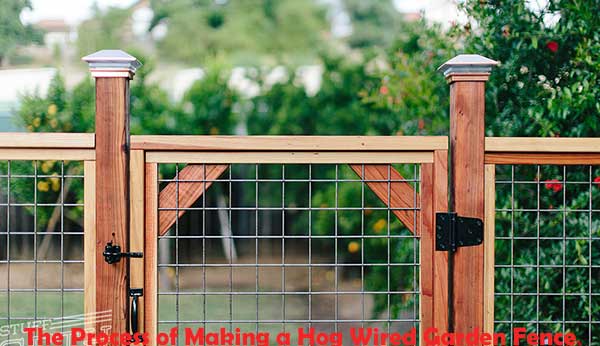 Step 1
Select a type
Decide a fence type whichever seems best for your garden. For preventing the devastation of animals, we are making a hog-wired fence. And to be noted this fence also prevents all animals quite masterly.
Step 2
Gather everything you need
Equipment: Here, to make a fence you will need, a hammer, a crowbar, wire-cutter, and wire nail.
Construction materials:
Posts, Frames, mud board, hog wire panels, Clay or foam etcetera. After calculating your place, you can decide the measurements of how tall or how thick you want your fence.
Step 3
Measure the whole area and the position you want to have the posts. Dig inside the ground. Use the crowbar and the hammer. Take your posts and bury them into the ground.
Step 4
Make sure to plumb the posts. Now do the foundation. You can use wet clay, cement or foam for this. Cement is time-consuming and clays are ephemeral so using foam would be the best.
Step 5
Add frame with your posts. Use a hammer and attach them at the top and the bottom. It adds stability and looks good. Use hardware mesh for the base of your fence.
Step 6
Build the panels. At first drill in your posts to loop the wires. Take the wires and start to tie it up by looping around the string. Maintain the same length and distance in between to look good.
Step 7
Finishing
After completing the wire panels, you must cut the extra sides of the wires. Make sure you tie all the knots very tightly. Try to wire the frames and posts one by one. You may cut the excess post length for beautifying your fence.
Also See: Our selected Fence Post lists for you.
Things You Will Keep in Mind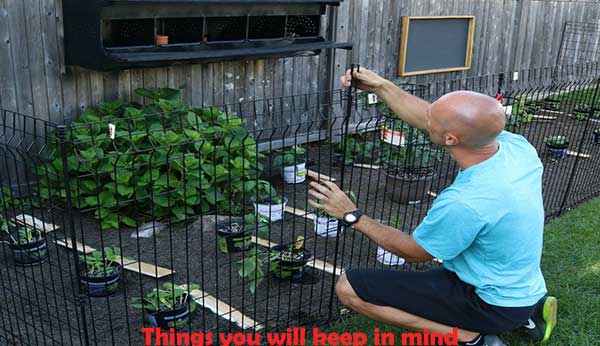 You must make sure that your fence is tall enough to be resistant to the animals.
Be ready to make adjustments when you need them. This may not be the forever home fence for you.
I would suggest you, bury the posts at least 12 inches under the ground.
Assemble the fence correctly otherwise you may get harmed by it.
Do not make it too shaky or clumsy and also do not make your fence extremely coarse. Make it defendable for animals but safe for the children and family members.
While working on the fence, try to be conscious of the plants and trees. Do not be the reason for the destruction of your own garden.
Make sure you put a sound and minimal wide door in it and keep a lock to the door as well.
After finishing the fence, unloose the garden and water the plants to clean out the dust from them.
Be frugal but not stingy about making your fence. You must need a strong fence so at least use a good foundation material if not anything else.
Final Words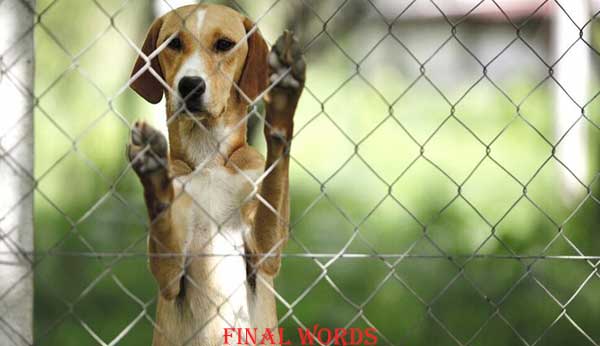 Fencing is the only option to get rid of both wild and domestic animals. It can be a little time-consuming task but it saves your plants. This is quite inexpensive so everyone can afford it rather it prevents your costly damage.
As now you know how to build a garden fence, it is time to do it practically for you. The sooner you will make it, the better it will be for you.
Related article that you may like: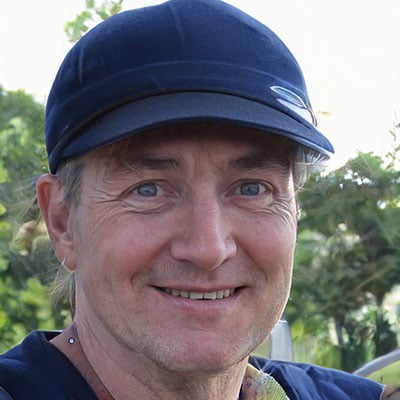 David, the founder of The Garden Fixer, started with a passion for gardening in 2012. He has continued his passion for gardening and desire to improve his skills and wanted to share his journey and helpful knowledge with other like-minded individuals.
He launched The Garden Fixer as an outlet for those interested in learning more about Gardening in hopes they can take what they learn and apply it for themselves!