Are you tired of nosey neighbors who keep trying to sneak peek into your house? There is a solution. With the Chain-Link Fence or privacy screen, you can get out of this situation. But the question is " How to Cover a Chain-Link Fence for Privacy". There are multiple options to cover your house for privacy.
Buy Bamboo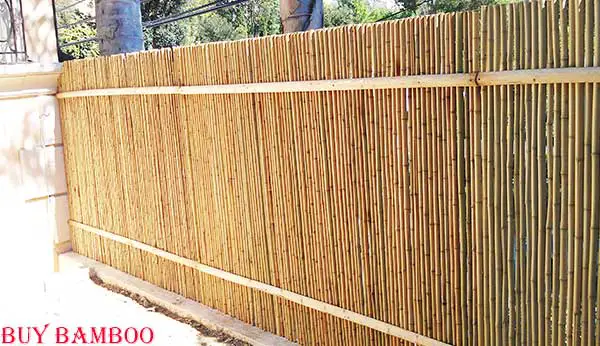 Bamboo fences may be purchased online or at your local home improvement store. Rolled bamboo fence is made of connected poles that range in thickness from 3/4 to 2 inches. Full bamboo pole screens may be installed by connecting the poles to the top and bottom of your chain link fencing.
This will not only provide you with seclusion, but it will also be an aesthetically appealing addition to your backyard. Full bamboo screens are simple to install and built for optimum strength and longevity.
You may place them in front of or behind your pool, depending on how much privacy you require. If it's for organic covers, the whole bamboo is durable, but organic material will gradually decay unless it's maintained. Our selected Privacy Screen for Chain Link Fence lists for you.
Wooden Fences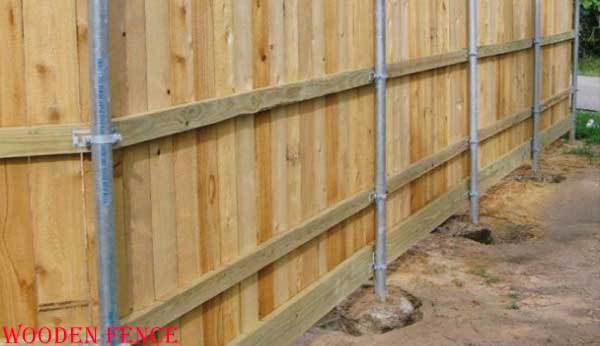 Using U-brackets, regular wooden fence panels may be screwed into chain-link fences. There is no need to manually nail up boards because these panels are pre-fabricated at a factory. To attach the panels to the chain-link fence, you will need access to the backside of the fence.
Generally, durability is great. Because cedar is so oily, it is inherently resistant to the elements. To extend the life of any wood, a sealer can be sprayed on it. The level of privacy is great (about 90-percent).
This is one of the few possibilities for entirely changing the appearance of your chain-link fence. The chain link is still evident in certain locations with all other alternatives. Get a good quality Solar Lights for Chain Link Fence from our lists.
Fence stats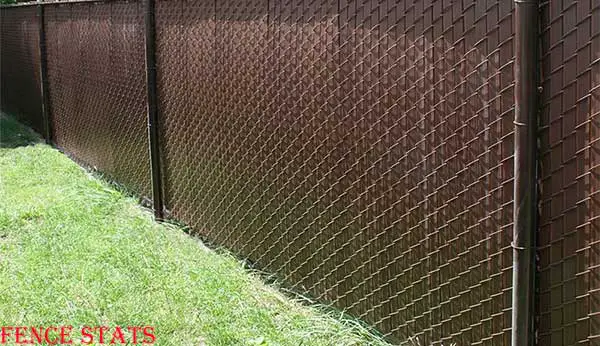 Fence slats are an excellent barrier material for enclosing an area for seclusion. Because of their height, the poles allow you to see through the screen, but they also block you from seeing what's on the other side.
Furthermore, these privacy screens are less expensive than other varieties designed exclusively for private rooms. Slats for fences are constructed of high-density polyethylene or metal. You may also spray paint them in whatever color you like to match or enhance the color of your home.
Chain link slats have a longer lifespan due to the material they are made of. However, depending on the weather in your area, you may need to repaint them now and again. Top 5 Chain Link Fence reviews & buying guide.
Mesh Privacy Screen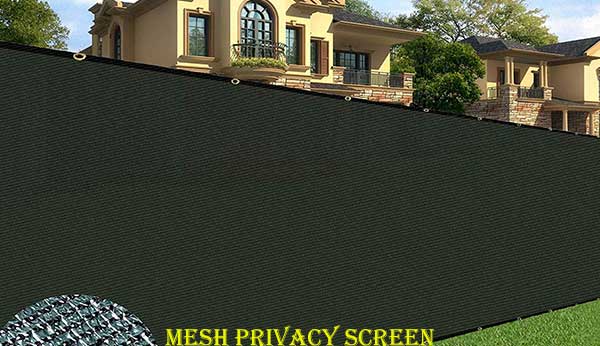 At first appearance, a mesh windscreen seems to be a tarp. Tarps, on the other hand, are a bad choice for fences because they catch the wind and function like sails. A mesh privacy screen, on the other hand, is designed for use with fences.
The Mesh screen is susceptible to water and wind. It also features a double-thick trim around the circumference, as well as brass grommets on the trim to allow you to zip tie it to the chain-link fence. They are easier to install and remove than other choices because of the brass grommets and zip ties.
Mesh screening is extremely long-lasting. It has a non-organic UV rating and is made of high-density polyethylene, allowing it to survive for many years. It is also the least expensive when compared to other privacy screens.
The mesh privacy screen is water- and wind-permeable, with a double-thick trim around the circumference and brass grommets on the trim for attaching it to the chain-link with zip ties. Depending on how much you are ready to invest, privacy goes from 80% to 96%. Different types of Paint for Chain Link Fence and their uses.
Reed Privacy Screen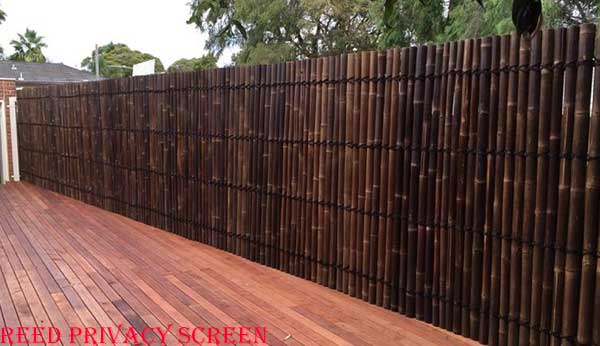 Another alternative for covering your chain-link fence is to use a tarp. Reed screens are thinner than slats and may be the ideal option if you want something light and easy to handle. Reed screens can be installed on top of panels or suspended above them using L-shaped brackets. This provides you with greater solitude while yet allowing fresh air to enter.
They're approximately the width of a drinking straw, so they're easy to wrap up and travel. Reed screens are an excellent alternative for a lightweight fence covering. On the negative, they are less stable in high winds due to their narrow diameter, which might bow under pressure.
They are quite simple to set up. All you have to do is attach them to the chain-link fence using metal wires. They serve as a privacy screen, especially while fresh, but they disintegrate and fall as they age.
Trees and Bushes in Chain Link Fence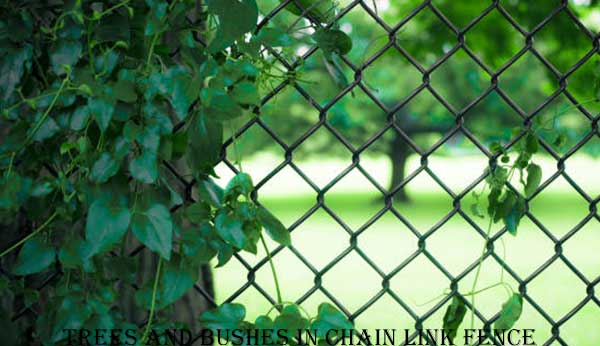 The use of wood planks to cover a chain-link fence is not your only choice. If you want seclusion and security, plant plants and trees in front of your chain link fence. This will assist to obscure the space and make it feel safe.
Make certain that you select a tree that is appropriate for your growing environment. Choose a plant-based on the temperature in your area, as well as if you need a plant that can thrive in direct sunshine, dry soil, and retain its color all year. If you choose bushes, trees, or shrubs, they will require weekly upkeep and might take several years to mature. Also, maintain the plant trimmed uniformly around the top and sides.
Wood Fence Over Wire Fence or Chain Link Fence
Final Words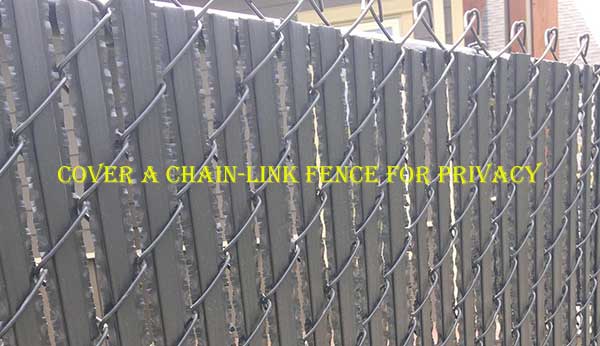 Chain-Link Fence for Privacy gives privacy and security. Also, the outside animals can not enter the house and harm the plants and trees. So it is important to have a barrier to the house. Here we have presented almost all the possible ways how to cover a chain-link fence for privacy. Hopefully, you have got the answer you were looking for.
Related Post: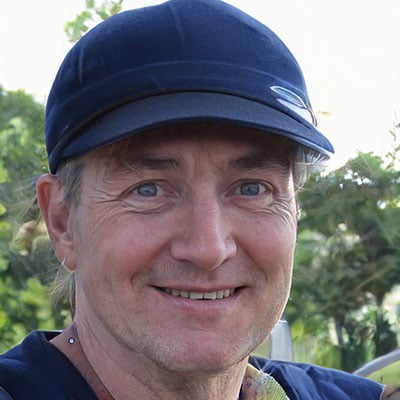 David, the founder of The Garden Fixer, started with a passion for gardening in 2012. He has continued his passion for gardening and desire to improve his skills and wanted to share his journey and helpful knowledge with other like-minded individuals.
He launched The Garden Fixer as an outlet for those interested in learning more about Gardening in hopes they can take what they learn and apply it for themselves!