An electric fence wire is one of those items that you need to have installed in your farm, mainly to keep your livestock safe from wild animals, and that weird guy who keeps lingering around the yard (Big sus).
From being coated with heavy-duty polyethylene, to even coming in a range of different colors to choose from, an fence wire is one of the most sought after item for any farmer or homeowner want to ramp up the security.
However, it is easy to suffice that the best electric fence wire can be really hard to find, judging by the plethora of brands and models on the market now.
But you have nothing to fret about here. In this article of ours, we have short-listed 8 of the fence wires that you can invest in. Having hand-picked each product based on its features and specifications, you can bet on our top picks to be the most convenient and worthy for your farming needs.
Our Recommended 8 Best Electric Fence Wire Reviews in 2022
Now that you know why electric fence wires are so beneficial, let us dive into our best picks for the day!
1. Extreme 500′ Compatible Dog Fence
The first product that we have on this review is the yellow electric wire by Extreme Dog Fence. If you want an electric wire that goes up to 500 feet at once, then look no further than this amazing model.
Sporting a strong coating of HMW Polyethylene, this heavy duty fence wire spool can provide a total coverage of 2 acres at most. The best part of this product is that it requires zero splicing.
The polyethylene coating makes the wires safe from harsh UV rays, and therefore increases the overall longevity of the product as well. For enhanced safety, you will find the wires to come layered with a protective jacket as well. The jacket will protect the wires from animal bites, as well as wear and tear.
Did we mention that you can find this product in 5 other sizes as well? Starting from a minimal distance of 1000 feet to a maximum of 3000 feet, the brand caters to all kinds of ground needs.
Most Liking Feature
If you want the best wire for electric fence that is compatible with all kinds of dog fencing systems, then look no further than this model. The wires also come insulated, thanks to the range of different gauge sizes that the brand offers, starting from size 14 to going up to size 20. For more suggestions, you can read about fencing for garden.
Probable Drawback
Might not suitable fencing wires for all species especially for a small ones.
Key Features
Thick protective jacket ensures safety of wires from wear and tear
Long-range 500 feet spool provides wide coverage
The wires come coated with UV resistant substance
Compatible with all kinds of dog fencing systems
The copper core is well insulated.
2. Farmily Portable Electric Fence | 656 Feet 200 Meter
If the previous 500 feet wire isn't up to your requirements, might we suggest this 656 feet model by Farmily instead? Although sporting a similar yellow shade (with black stripes) as our previously reviewed electric wires, this Farmily covers more distance at once.
If you are looking for the best electric fence wire to invest in during this farming season, then you might want to check out this Farmily one for a change. Coming equipped with 6 strands made of stainless steel material, this product shows seamless conduction throughout the fence.
On top of that, one of the features that set apart this model from the rest in the market is its re-usability.
You can actually splice and repair this electric fence polywire over and over again until it has served its purpose till the end. The lightweight of this product is both, its advantage and disadvantage at the same time. How, you ask?
While the weight of it makes the product ideal for transportation, it also limits the usage of the wires when it comes to livestock farming.
Most Liking Feature
However, even after saying all that, it is hard to ignore the benefits of this fence wire. The large distance coverage of it, coupled with the bright color and amazing insulation can easily give any competitor a run for their money. Additionally, you can check our review on trellis for cucumbers.
Probable Drawback
You can install this product if you wish to farm livestock such as goats and lamb, but the same cannot be said for larger animals, such as bulls and cows.
Key Features
Bright color is widely visible from a distance
Wider distance coverage is ideal for bigger farms and yards
Stainless steel core conducts electricity efficiently without causing unintended shocks
The product is re-usable.
3. Gallagher Electric Fence Poly Wire | 1312 Ft Plus Free 328 Ft
Consisting of 6 stainless steel core strands that have been internally woven deep into the wires, this amazing polywire spool can cover a total distance of 1312 feet, with a bonus distance coverage of 328 feet at most!
This rust and UV resistant stainless steel wire is ideal for keeping in large-built livestock inside farms. However, you can actually cut up the fence wires into different sizes according to your needs, therefore being able to use this versatile product for protecting small livestock such as chicken and ducks as well.
The product is also very lightweight, which makes it easy to transport from place to place. On top of that, the fence wire can be cut and spliced up according to your requirements, so you do not have to purchase a new wire every time the old set runs out.
Depending on the bonus scheme that you opt for, you can expect a voltage rate of either 5kV (100m), 2kV (500m), or 1kV (1km) in total. You can find an in-depth suggestion for Chain Link Fence by simply clicking here.
Most Liking Feature
Other than that, the wires will stay taut in place and untangled as long as you do not fuss with it, or physically jot them up. The thickness of the strands allows the product to be resistant to heavy winds or storms, therefore staying in place regardless of the weather condition.
Probable Drawback
The only downside to this product is its inability to work underground, as its electricity induction stops functioning once below surface level.
Key Features
Bonus wire length works as a backup in case you have more area to cover
Strong, stainless steel strands conduct electricity thoroughly
UV resistance lengthens product longevity by years
Re-usable and can be reeled in.
4. Zareba PW656Y6-Z Polywire | 200-Meter 6-Conductor
If you are searching for one of the best electric fence wire for cattle and horses specifically, then we would suggest you to look into this yellow and black Zareba polywire, with a whopping distance coverage of 656 feet.
You can find this product in either a pack of 1 or 6 in total. Ideal for temporary farming requirements and large yards, this wire spool comes equipped with 6 stainless steel electric conducting strands.
The strands have a strong core, and allow seamless conduction, therefore reducing chances of unintended shocks and accidents from taking place. You can also re-use this product multiple times, hence saving you a lot of money and valuable time in the long-run.
Although being specifically ideal for keeping cattle and horses safe inside the farm, this poly wire fencing can also be used to protect smaller livestock such as ducks and chickens. All you need to do is cut up the wires into different sizes, in accordance to your farming requirements.
Most Liking Features
The metal conductors of this fence wire are taut and are not prone to tangles or breakage. You can rest assured that this product will not break down even in the middle of a storm!
Probable Drawback
This polywire is less protective from UV rays, otherwise, everything is okay for this pack.
Key Features
The bright color makes the product visible from a good distance
Re-usable wires can be cut up and spliced according to needs
Lightweight and portable; thus being easy to transport from one place to the other
Strong, stainless steel strands conduct electricity smoothly.
5. Extreme Dog Fence 14 Gauge Professional Boundary Wire
We are back with yet another steel wire by Extreme Dog Fence. However, unlike its predecessor, this model sports a shiny black appearance for the wires, and can be used for underground wiring that lasts for more than 20 years!
This 500 feet fence wire is available in two other sizes as well, ranging from 1000 feet coverage to 1500 coverage at most.
The product comes equipped with a pure copper core that can conduct electricity up to 2 acres in total.
On top of that, the 14 gauges of the wires makes this product heavy duty, therefore ideal for underground conduction as well.
Coated and equipped with a strong polyethylene jacket, this wire spool is resistant to harsh UV rays and also moisture. The product will stay safe even under heavy rain, thanks to the plastic shielding done throughout the wires.
You can splice, cut and re-use this electric fence as many times as you want. The only thing to keep in mind is to make sure you protect the plastic capping on the wires before you make your cut, as not doing so might damage the wires completely.
Most Liking Feature
The wires can be unrolled and untangled very easily as well, therefore saving you a lot of valuable time during the installation process. Another important feature of this fence wire is its compatibility with all types of pet fencing systems.
Probable Drawback
The upper plastic capping is prone to damage if you don't handle it with care when cutting the wire.
Key Features
Plastic shielding makes the fence wire resistant to water
The polyethylene jacket conducts electricity seamlessly
14 gauge copper core ensures smooth underground wiring
Wide distance coverage is ideal for large farms and yards
Universal compatibility with all kinds of fencing systems for pets.
6. Farmily Portable Electric Fence Polywire | 1312 Feet 400 Meter
We are back with another amazing fence from Farmily. What can we say? This brand is just too good to not check out more than once! Ideal for temporary installation in yards and farms, this white colored braided fence can be spliced and re-used multiple times.
This product allows a distance coverage of 1312 feet, with proper electricity conduction all throughout the wires, thanks to the 6 stainless steel conductors that the fence poly wire comes equipped with.
The polymer webbing done on the wires increases the tautness of the overall product, therefore making it one of the best fence wires to set up to keep small livestock safe inside the vicinity.
However, you do have to note that this rope poly wire is not the "sturdiest" when it comes to keeping large livestock, such as bulls and cows inside the farm. Such animals can easily bite their way out of the fence.
Most Liking Feature
The wires are well-stabilized and come coated with UV-resistant substance that enhances the overall longevity of the product. On top of that, the wires are super lightweight as well, so transporting the product won't be hard at all.
Probable Drawback
The plain white color might not be the best for you, especially if you are looking for something that is notably bright and visible from a good distance.
Key Features
UV resistant coating makes the product immune to premature breakage, as well as wear and tear
Stainless-steel conductors allow smooth flow of electricity
Lightweight wires are ideal for transportation
The re-usable feature helps save a lot of money in the long run.
7. AgriOtter Aluminum 300 feet(91M) 17 Gauge Electric Fence
The AgriOtter aluminum wire is one of the best models to splurge your money on, if you want to forego the usual stainless steel conductors for a change.
Equipped with aluminum wires that claim to conduct 400 percent more energy than traditional steel wires, this bad boy is a sight to behold for any farmer!
On top of that, the 17 gauge rate of this 300 feet fence can easily work underground, therefore being the best choice for those farming sheep, cattle, and horses.
You are so wrong if you think that sums up the features of this versatile baby! Oh no, no. Starting from being ideal for farming to even decorating plant-ties, you can use this wire for your DIY purposes as well! Isn't that amazing?
The wires also come coated with a rust-resistant substance that helps to keep the longevity of the product intact, while also making it eco-friendly. For all the nature-lovers out there- this is just the product for you!
Thanks to its lightweight feature, you can also carry the wires with ease while installing the product in your yard or farm. Twist, turn and cut the wires all by yourself, and save that extra money you would've invested behind a professional instead.
Most Liking Feature
The best part here is that the wires require less electricity as well, so you can say goodbye to paying hefty bills every month. Whew!
Probable Drawback
The cost of this fence wire pack is a bit higher than its competitors.
Key Features
The versatile feature allows the product to be used for farming and other recreational needs
The rust-resistant coating increases longevity
Aluminum wire conducts more energy without using excess electricity
Eco-friendliness makes this product safe for the environment.
8. AgriOtter Aluminum Stranded Craft Wire5/16 Mile(500M)
The last product on this review is yet another AgriOtter fence wire (brownie points for you if you saw this coming!), but this one is slightly longer in length than its predecessor.
Although sporting a reduced gauge rate of 16 (in comparison to the previous AgriOtter model), this product can actually cover up to 500m at once.
The tensile strength and tautness of this braided model are also much better than our last AgriOtter product.
The electric fence can be used for both, recreational and professional farming requirements. From decorating your newest Bonsai collection to keeping wild animals from penetrating your farm, this product is lightweight, versatile, and definitely worth the splurge.
When it comes to installing fence wires, you should always think from long-term perspective. Having said all that, owning such a product can provide you with the necessary features required to keep house pets and livestock safe inside your farm for as long as 4 years at a stretch.
Most Liking Feature
The spool is designed to allow smooth and easy control and unrolling, therefore saving you valuable time and energy. Thanks to its lightweight feature, you can even cut and tie the wires all by yourself without requiring professional assistance.
Besides, the product is eco-friendly and one of the best models to invest in, especially if you want to stick to the AgriOtter brand and its products.
Probable Drawback
However, the only downside to this product is its plain silver color, which can be quite difficult to see from a distance
Key Features
Lightweight design makes it easy to transport from one place to the other
Eco-friendliness makes the product safe to use in all situations
Higher energy conduction cuts down on excess electricity consumption
Braided wires are taut and more stable.
Benefits of Using Electric Fence Wire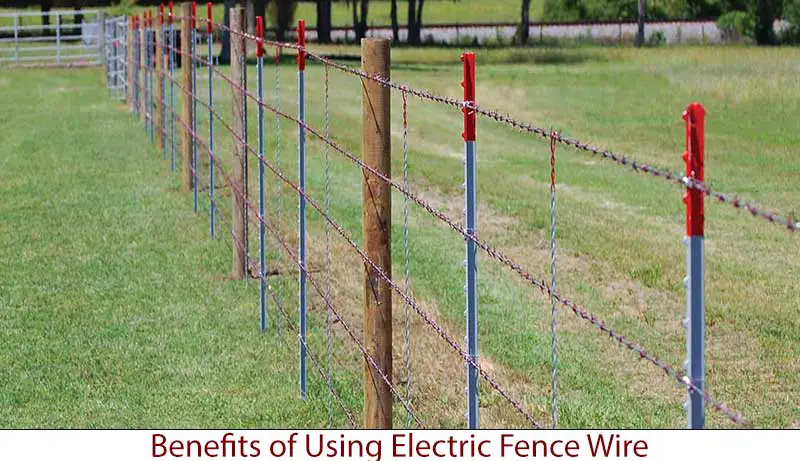 An electric wire can be utilized in many ways, given that you have knowledge about its many benefits. Below, we have stated some of the most common benefits of an fence wire that prompt customers in buying them, to begin with.
Portable and Lightweight
Unlike your traditional barbed wires, an electric fence is much lighter and portable in general. Its portability is what will allow you to easily determine where the fencing is best suited, and where you should avoid having it installed.
Handles Damage Better
An electric fence is better at handling damage from animals than barbed fences. We bet many farmers can relate with us when talking about instances where livestock such as large bulls and cows actually bit their way out of barbed wires. But that will not be the case with the best wire for electric fence out of the lot.
When coming in contact with animals, an fence wire simply produces a minimal shock that is enough to keep livestock away from the edge. There is no way for the bulls or cattle to bite their way out this time, as that will result in being shocked continuously.
How Electric Fencing Works
Harmless and Safe
Although producing shocks to keep livestock away from escaping or being stolen, an fence wire is not dangerous or physically harmful for the animals.
Yes, it does produce some shock to keep animals in place, but the amount is minimal and will not burn or leave a permanent mark. However, if you are still worried about the safety of your animals, know that the amperage produced by such fences can be adjusted according to your requirements.
The only thing you do need to keep in mind though, is to keep children away from the fences to avoid accidents.
Budget-friendly
One of the best benefit that you can experience from an electric wire is its affordable price. Such fences are actually cheaper than barbed wires, mainly due to the minimal settings it comes with.
The light weight, ease of portability and fewer parts in general makes fence wires much more affordable than other kinds of fence wires.
Things to Consider Before Buying Electric Fence Wire
Although sporting very easy-to-understand features and specifications, a notable mistake that many newbie customers seem to make is buying the wrong kind of electric wire for their farming requirements.
It is important to always do your research thoroughly, before you jump onto making your first (or, possibly hundredth) electric fence purchase, as such a product can come in different shapes, sizes and materials.
If you don't want to be duped into investing all your money in the wrong product (thanks to those pesky, fraudulent retailers), then take our word for it and continue reading this buying guide to learn all you need know about wires before you place your order.
The Material
Whether you have a budget of $100 dollars, or $1000, it is crucial for you to invest in the right fence wire material, instead of solely focusing on the brand value. Of course, the brand does matter, but there is no point in buying a white poly tape wire if you live in a snowy region (You won't even be able to see it for god's sake!).
Hence, shop wisely when it comes to choosing the material. If you live in a cold region where it snows a lot, and we mean heaps of fresh snow every morning, then go for an wire made of either poly tape or poly rope in colors yellow, neon green or brown.
However, note that the above-mentioned types of electric wires are ideal for farming small livestock, such as chicken and ducks only.
If you want to keep your bigger animals inside the vicinity, such as cows, lambs and bulls, then go for stainless steel or aluminum wires as these materials have higher tensile strength and tautness.
On the other hand, the difference between a polywire vs aluminum wire lies in regard to its tensile strength and visibility.
Although being much stronger and tauter than poly wire, an aluminum fence wire is not as visible and bright as its thinner counterpart. Poly wire is also re-usable, which is not the case for aluminum wires.
In the end, it actually comes down to your own preferences with farming or yard-decoration.
Gauge
There are commonly two different kinds of gauge rates that farmers go for when choosing an electric fence. The difference between a 14 gauge vs 17 gauge wire is actually virtually minimal.
As a general rule of thumb, the lower the gauge rate of the fence wire is, the thicker and heavier the wire will be. This means that a lower gauge rate should be preferred if you wish to farm larger livestock, such as bison and rams.
Brand
Although a no-brainer for many, the brand actually has a lot of influence on how well an wire will perform in the long run.
We would always suggest you to go for products that are manufactured by well-recognized brands in the market, as they generally have more to lose than that third-party retailer down the block. Seriously, it ain't worth it.
Go for a brand as renowned as Zareba, AgriOtter or Farmily if you don't want to splurge all your cash in the long product.
Portability
Unless you have tons of cash idly laying around, don't invest in super-heavy fence wires that will definitely require professional installation. Instead, go for lightweight fence (like the ones we mentioned in our reviews!) that you can carry, transport, and install all by yourself.
Self-help IS the best help, and it's even better when it saves you money in the long-run!
Types of Electric Fence Wire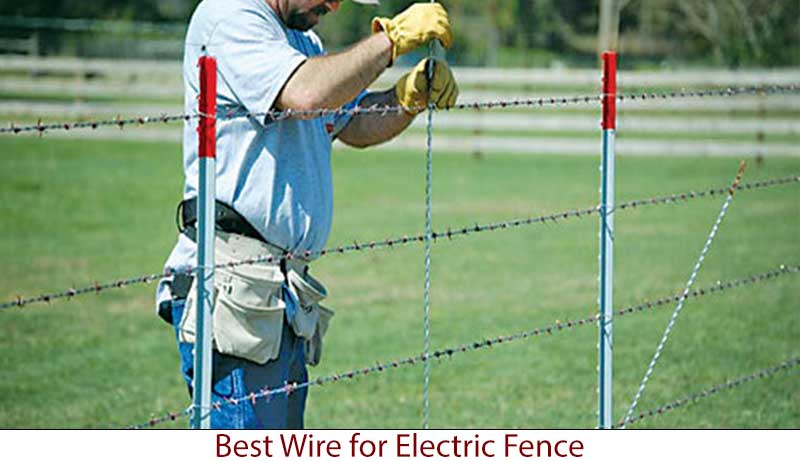 There are different fence wire types that you can find on the market, but that does not mean you should go for just any product you lay eyes on first. It is important to know the different types of electric fence present, and purchase according to your needs.
Aluminum Wires
The first type of wire that you can go for is made from aluminum. Generally, this type of fence wire is much faster in conducting energy, while also keeping the electricity consumption to a bare minimum.
So if you want to save some bucks without compromising on keeping your animals safe inside the vicinity, we'd suggest you to take a look at aluminum fence wires for a change.
Aluminum wires are also very long-lasting, as they come with amazing tensile strength that can easily keep large animals such as horses and bulls from toppling over.
Most high quality aluminum fence wires will also come equipped with some kind of anti-rust coating done, therefore allowing the product to stay safe from premature corrosion.
Poly Wires
Another kind of fencing that you can done is with poly wire. When it comes to choosing the best electric fence types out of the lot for small animals, we would suggest you to go for poly wire ones, as they tend to be more visible than metal ones.
Such a fence type is also ideal for those living in cold regions where it snows a lot, as it can be quite hard to see where the fence begins and ends under harsh weather conditions.
We would suggest beginners to go for poly wire fences as well, as the lightweight feature makes them easier to install without requiring expensive, professional help. Poly wire fences are also immune to premature corrosion and breakage, therefore being cost-effective in the long-run.
Stainless Steel Wires
The most commonly purchased and used fence out there is none other than stainless steel ones (for all the right reasons as well!). This kind of fencing wire is the most sought after in the market, due to its budget-friendliness, and ergonomic design.
Such a wire type usually goes well with any kind of fencing system, therefore being universally compatible with various chargers, brands and models.
The best part about stainless steel wires is its lightweight, and ease of installation. Beginners and professionals will both have it easy when installing this type of fencing for their yard or farm.
Poly Rope Wires
Another kind of fencing type that is usually purchased for horse training is poly rope. Combined with the strength of poly wires and woven steel knots, poly rope fence wires are strong and have a high tensile strength.
However, that does not mean that the wires are heavy. In reality, this type of fence wire is just as lightweight as your polywire fences! Poly rope wires are also much easier to install, repair and splice up for future installations.
This type of wire is also immune to rusting and corroding, therefore ensuring prolonged longevity for years on end.
FAQs – Frequently Asked Questions & Answers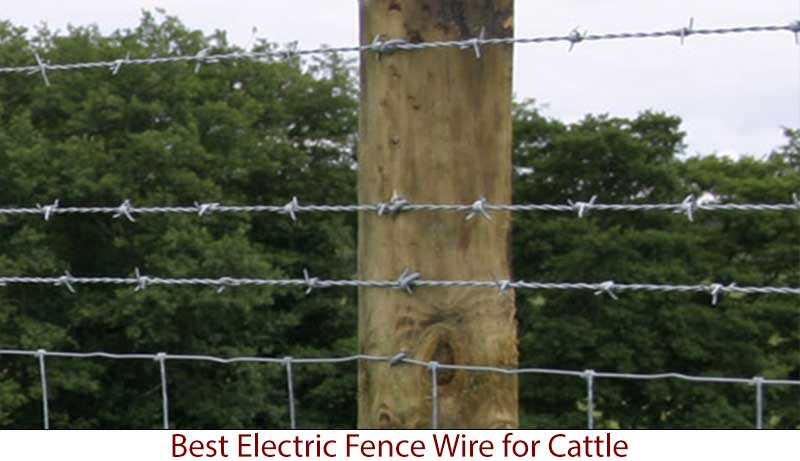 Whether you are newbie or a professional in the world of electric fencing, it does not hurt to know a tad bit more about this type of fence system. We hope you find your desired questions being responded to below as well!
1. Are electric wires dangerous?
If it is to keep your large livestock safe inside the vicinity, then no, the wires cannot be deemed as dangerous as they will only be keeping the animals in one place.
Starting from a minimal voltage of 2,000 to going up to a maximum level of 10,000 volts, the energy and electricity conduction of an wire can be adjusted according to your requirements.
2. Is the electrical consumption high for fence wires?
This depends with the brand and the model you are investing in, but in general, an electric fence should not consume more than 33 watts of electricity per day.
The highest electrical rate an electric wire can consume may go up to 50 watts per day, but that can stay on the low as well, if you regulate and observe the usage of the wires properly.
3. Can an electric fence work if it isn't grounded?
No, it won't work unless the wires are properly grounded. Make sure to bury them underground properly before you start operating them for your farming requirements.
4. What power unit does an electric fence use?
An electric fence will work with either DC, AC or solar power. We would suggest going for either AC or Solar power if you wish to install fence wires, as they cost less or work more efficiently than DC power fences.
5. What voltage level is ideal for farming bulls and bison?
You can set a voltage level of 5,000 volts going through the electric wire to keep large livestock such as bulls and bison from charging past it.
Final Words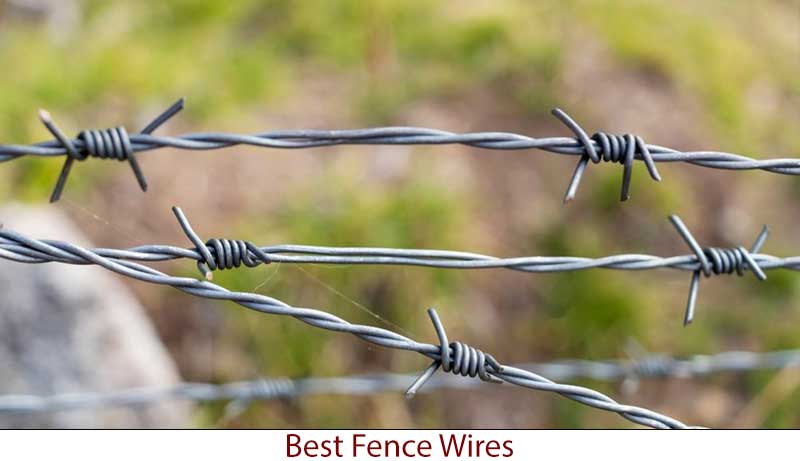 By now, we bet you have a clear idea about what the best electric fence wire is supposed to be like, when compared to the rest of the products found on the market.
It does not matter how trained your animals are, as installing fence wires only add up to the security and causes no underlying harm to you or your livestock. Go for only the best products out of the lot, when it comes to securing the best deal of the year.
Make sure to do your research in terms of features, specifications, and overall tensile strength before placing an order for your choice of electric wire.
Related Post: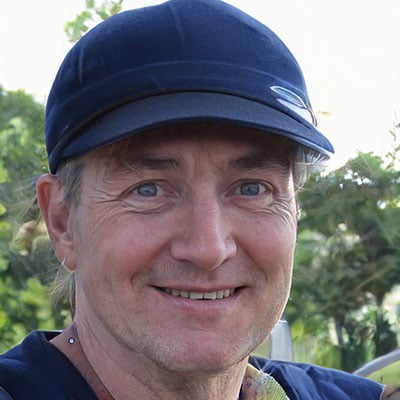 David, the founder of The Garden Fixer, started with a passion for gardening in 2012. He has continued his passion for gardening and desire to improve his skills and wanted to share his journey and helpful knowledge with other like-minded individuals.
He launched The Garden Fixer as an outlet for those interested in learning more about Gardening in hopes they can take what they learn and apply it for themselves!