You have a beautiful farm near your house. So, you have always dreamed of filling it with various colorful plants, right? To make your dream true, you will have to cultivate your farm regularly with a tractor by following the ideal cultivation process. And having the best field cultivator is one of the most important parts of it.
There are a lot of cultivators, a number of processes for cultivations, but no wonder; every one of them isn't equally effective. So, it is your duty to pick the right utensil and process to get the job done in a fashion.
And here we've covered you up. Among the hundreds of options, we've compiled a list of 5 top field cultivators that will likely meet each and every quality of a top-class cultivator.

Our Top 5 Best Field Cultivators Reviews in 2022
We have independently researched, tested, and tried to recommend the best products. Read the reviews thoroughly and choose what is best for you.
1. MotoAlliance Impact Implements CAT-0 Cultivator
If you want an excellent handy tool that you will use around your farm and in the garden, this is the best option. It has adjustable tines. So, it will fit easily in any of your gardens or farm.
Basically, you can use the MotoAlliance CAT-0 Cultivator for secondary tillage. It has a beveled edge and spring steel tines. These tines help cut through the prepared soil and leave deep furrows for sowing land with seeds.
The teeth of the Impact Implements CAT-0 Cultivator do not work deep beneath the surface. They work firmly near the surface.
The cultivator attaches to a 3-Point Hitch Attachment System with pins. So, you can attach it easily to a garden tractor or lawn tractor along with any vehicle which supports this system.
Always remember that a 3 Point Attachment System or CAT-0 Hitch System refers to a tractor with power up to 20HP or almost 15kW.
Let's look at its other specifications. This cultivator has a dimension of 52" width. So, it can cover a sizeable area. This facility increases the speed of the cultivation process.
The tines have lower depth capacity. As a result, they don't go deep beneath the surface but mix the soil smoothly.
Most Liking Feature
MotoAlliance Impact Implements Cultivator has an 8 gauge frame, which also includes the 3 point system. They installed the main frame tube with a 10 gauge frame. This long frame allows not only to increase the working path but also to get a better movement.
Probable Drawback
Not appropriate for deep digging, if you do so then it may snap its teeth.
Key Features
Cutting edges with 6 adjustable and replaceable tines
Up to 48" cutting width with Heavy Duty Stabilizer
Removable tines to adjust with row size
"S" style agricultural grade tines with multiway spacing system
Integrated with quick mounted 3 Point CAT-0
CAT-0 Hitch needed for attachment
2. Brinly CC-56BH Sleeve Hitch Adjustable Tow-Behind Cultivator
You may have tension in the spring for your plants and food plots because the soil needs aeration at this time for optimal growth of the plants. If you have a large garden or farm, you cannot hoe this by hand. You will need a long time and labor-intensive process for that. So, you can choose the Brinly Tow-Behind Cultivator to get rid of all these problems.
The Brinly Cultivator makes weeds stop from taking root and increase plant growth. In a word, this cultivator can be the most successful and trouble-free way to aerate the soil of your farm or garden. You just need to sit on a tractor and control the cultivator for the best result.
A renowned company like Brinly Hardy has manufactured this cultivator. Because of its utmost quality and great customer service most of the consumers like the product. It also has a very high rating in the professional community.
Most Liking Feature
The Tow Behind Cultivator has 11.5" long seven (7) curved shanks which softly remove unnecessary weeds. They built these shanks using rigid solid steel to loosen soil between freshly planted garden rows. The shanks also feature depth control skids which allow them to increase aeration, boosting plant growth.
Probable Drawback
These included two bolts are not long enough, so you may need spare bolts when installing them to a particular tractor.
Key Features
Adjustable cultivator width from 18" to 40" and ¼" angle steel frame
Extra weight adding facilities in the frame
Height adjustment function for skids
7 curved C-shape shanks with quicker movement (11.5" long)
Sleeve Hitch needed for attachment to the tractor
Trusted company and made in the USA
3. Field Tuff FTF-48C3PT 3 Point Ripper
Here comes another 3-point cultivator. The Field Tuff FTF-48C3PT Cultivator is another perfect tool to cultivate your soil. This cultivator also has an enormous width of 48" range to finish cultivation in an efficient and fast way. It has 7 heavy-duty shovels. These shovels cut through the soil effectively to ensure ideal cultivation. These sharp shovels are also convertible and adjustable.
Field Tuff's Cultivator has spring steel-made S-shaped shanks. The shanks are sturdy and flexible than others. They can easily absorb the digging of the shovels.
Are you worried about the durability of your product? Fortunately, this item from Field Tuff is built with its 3 Point Cultivator and heavy-duty steel, which has also a powder-coat finish. Therefore, you don't need to worry as it will serve you beyond your expectation.
Its corrosion resistance allows it to last even longer. It is a hassle-free product in case of attachment. You can easily attach it with your Category 1 tractors.
Most Liking Feature
This cultivator is absolute for cultivating the rows. It can dig your entire field to prepare your seeding beds. The Field Tuff FTF-48C3PT Cultivator, 48" is perfect for fields, larger farms, and gardens. So, grab it with a 1-year parts warranty to meet your needs.
Probable Drawback
Some packs missing some necessary accessories that need to set up the cultivator.
Key Features
48" working width and constructed of heavy-duty steel (powder-coat finish)
7 heavy-duty adjustable and reversible shovels (7.6" x 1.36")
Spring steel designed S-shaped shanks constructed of heat-treated
The ability to resist corrosion makes it comparatively durable and reliable
It fits Category 1 tractors and is suitable for fields or large farms
1-year limited warranty for Manufacturer's parts
4. Agri-Fab Ground-Engaging Attachment Sleeve Hitch Disc Cultivator
Agri-Fab Ground-Engaging Attachment Sleeve Hitch Disc Cultivator is the second sleeve hitch cultivator in this list. You can use this cultivator to break up clods of dirt in plowed soil. It is also effective when cultivating between rows of young plants.
This Agri-Fab Cultivator has an adjustable working width of 30" to 38". It is primarily for small farms, but you can also cultivate on medium-sized gardens or farms.
It has 8 discs measuring 11" each. These discs are considerably durable. The whole cultivator is also durable because of its powder coating.
You can adjust the angle of the discs from 10 degrees to 20 degrees. This adjustment facility gives you to get a well-groomed look at the cultivator.
You know products made in USA bear top-class quality. People can rely on those products because of their past odor. Agri-Fab imports some materials for this product from abroad but along with other own-made components, they make it in the USA.
Most Liking Feature
They provide a Limited Consumer Warranty for 3 years. All these things keep the product rating higher among users. So, what are you waiting for?
Probable Drawback
To use the cultivator properly, you require a sleeve hitch.
Key Features
Sleeve Hitch Attachment System
Adjustable width of 30" to 38" with Increased durability for powder-coating
Eight (8) durable discs measured 11" each
10 – 20 degrees angle adjustment facilities for discs
Made in the USA and Limited Consumer Warranty for 3 Years
5. MotoAlliance Impact Implements Pro Cultivator ( For ATV and UTV)
This is another MotoAlliance Cultivator we added to our list. You will be able to use this cultivator for secondary tillage, just like MotoAlliance CAT-0 cultivator. It has adjustable spring steel tines with a beveled edge to prepare the soil by digging deep furrows. The cultivator's teeth work close to the surface of the ground.
One of its amazing features is that it works nicely on All Terrain Vehicles and Utility Task Vehicles. You will be able to conjointly use MotoAlliance Professional Cultivator on small-size tractors.
This Pro Cultivator has 3 kinds of attachment options. It attaches to 1-Point Lift System, Sleeve Hitch System, and CAT-0 3-Point Hitch System. So, you don't need to worry about the attachment system. You can use any of them to attach to your tractor.
If you are looking for an affordable yet quality 3 point hitch field cultivator, this cultivator can help you out. Besides, you will get opportunities to use this MotoAlliance Cultivator with lawn & garden tractors, SxS, All-Terrain & Utility Task Vehicles, etc.
Most Liking Feature
Typically you will have half a dozen adjustable and replaceable cutting edge tines in this cultivator. However, this product includes 2 further tines for replacement which might be a significant offer to you. The cutting path of the cultivator is also much wider. You know, a wide cutting is compulsory to complete the cultivation faster. The one-pin mounting system has made it easier for attachment. You need to attach it using a hitch receiver.
Probable Drawback
The cultivator's tines are prone to damage if you use the cultivator for heavy use.
Key Features
Comparatively cheap and supports on various tractors
6 cutting-edge tines along with 2 additional replacement tines
Tines of spring steel with beveled edge
Wide range cutting path of 49" width
One (1) pin mounting system with 3 types of attachment systems
2" hitch receiver needed for attachment
Comparison Chart of Field Cultivator
| Product Name | Number of Tines | Required System | Cutting Path | Perfect for |
| --- | --- | --- | --- | --- |
| MotoAlliance CAT-0 | 6 tines | CAT-0 | 52" | Large Farms, Gardens |
| Brinly Tow Behind | 7 shanks | Sleeve Hitch | 40" | Large Gardens |
| Field Tuff | 7 shovels | Category 1 Tractors | 48" | Fields, Large Gardens & Farms |
| Agri-Fab Disc | 11 discs | Sleeve Hitch | 38" | Small Gardens, Farms |
| MotoAlliance Pro | 6 tines | Pro 1 Point Lift/Sleeve Hitch/CAT-0 | 49" | Medium-sized Farms, Gardens |
Things to Consider Before Buying Field Cultivator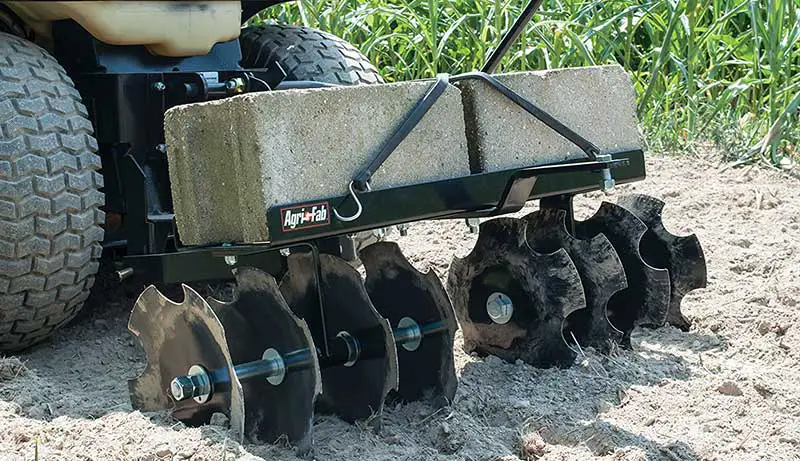 Now you are going to buy your cat 0 cultivator, right? But do you know what field cultivator attachments is the best for you? To understand what is best for you, it is necessary to understand the features in terms of benefit. Otherwise, you will choose the wrong cultivator with unnecessary features.
So, we are giving you a detailed buying guide on field tuff cultivator. We hope this buying guide will help you know the considerable things earlier before taking the final decision.
Size
You already know that there are variations in the size of 3pt field cultivator. You should choose a size that fits inside your farm or garden. You will not want a small field cultivator in a large field or farm, right? It is not only time-consuming but also more expensive to bear.
So, go for a large frame and ample width if you have a large field. And, look for a cultivator with fewer tines in case you want to use it in your home garden or small farm. Look at your needs first to choose the best atv cultivator.
Attachment System
If you want to use a field cultivator, then you must have a tractor to use it with. Look at the attachment system of your tractor.
Every tractor has a different attachment system. Besides, the size of the tractor also affects the use of the field tuff tow-behind tiller. You should choose a field cultivator which matches the attachment system of your tractor. Also, check the specifications of the cultivator whether it fits with the size of your tractor or not.
Cultivation Types
You can use some ripper field cultivator for primary tillage and some cultivators for secondary tillage. So, make sure you are choosing the cultivator for the correct use. A primary tillage cultivator will not work properly if you use it for secondary tillage. And, you can never use a secondary tillage cultivator for primary tillage.
Tines Functionalities
The key element of a field cultivator is its tines. Because these tines actually handle the digging activity which is the central part of a cultivation process. So, try to look for such tines which are made of good metal and have powder-coating. If you want to use the cultivator in various farms, look for adjustable tines and replaceable tines. We would like to notify you that some companies offer additional replaceable tines for future use.
Some people want a cultivator with many tines, and some like to keep it lower. Decide based on your choice. However, you can choose disc tines if you want a better look at your field tuff atv cultivator.
Brand & Service
You don't want to see your cultivator spoiled quickly after bringing it to your house. So, the durability of the product is a vital concern when choosing the right tractor field cultivator. A brand always ensures the quality of the product.
Products of renowned brands are automatically more durable than others. The mentioned fcultivator for small tractor are from popular brands. Besides, they are powder-coated. So, you should not worry about durability. Furthermore, some companies provide manufacturer's parts warranty, and some provide consumer service warranty. Choose according to your need.
Frequently Asked Questions & Answers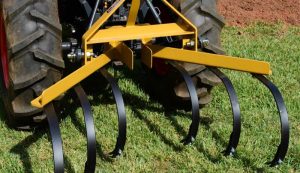 Here are some commonly asked questions regarding 3 point garden cultivator and their usages. We succinctly tried to answer those questions. We are hopeful that this section will take a part enhancing your knowledge about the three point hitch cultivator.
1. How does a field cultivator work?
Perfecta cultivators are generally implemented to prepare the seedbeds of a field. It is a prominent addition to modern agriculture. You can easily control the depth of digging using a do-all field cultivator.
2. Do I need additional weight for deep digging?
Three point field cultivator usually dig through the soil deeply. If you have grass on the farm and it does not work properly, you need additional weight. Add some extra weight above the frame and move slowly for better digging.
3. Do I need an attachment system in my tractor to buy a cultivator?
Obviously, you need an attachment system to use a field tuff tow behind tiller. It is not more than purchasing an attachment system and installing it in your tractor. On top of that, you can buy more than one attachment system.
4. How do I take care of a international 45 field cultivator?
You can take proper care and maintenance of your cultivator easily. Set it correctly when using it for cultivation. Clean it properly after every using. Don't let be there for a week without a proper shower. It can horribly lessen the lifetime of your item. And fix any technical problem as soon as possible with the help of a professional.
How to Use a Field Cultivator?
Final Words
Now we are at the end! Finally, you have got all the necessary information for choosing a good field cultivator. We hope you will not face any problem selecting a field. There are lots of options to choose from. We have tried to remove all of your confusion and shortened the choice list to the 5 best field cultivators. So, pick one carefully according to your needs and make your dreams come true!
Related Post:
You can find an in-depth suggestion for a trellis for cucumbers by simply clicking here.
In addition, you can check the recommendations for the 75 ft expandable garden hose.
Checking the weed barrier for vegetable will be helpful as well.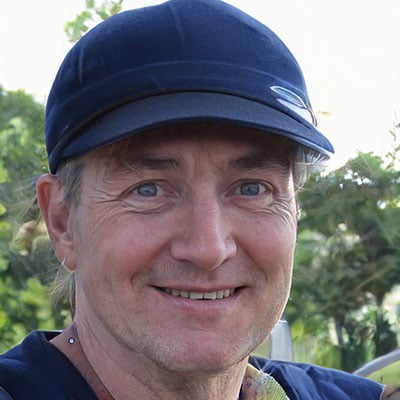 David, the founder of The Garden Fixer, started with a passion for gardening in 2012. He has continued his passion for gardening and desire to improve his skills and wanted to share his journey and helpful knowledge with other like-minded individuals.
He launched The Garden Fixer as an outlet for those interested in learning more about Gardening in hopes they can take what they learn and apply it for themselves!