Building a new fence is on our Spring to-do list. If you're new to fencing, you may be wondering what type of screws to use. Building a long-lasting fence requires using the right fasteners. We'll examine recommended and avoidable screws.
Fence construction uses screws at numerous stages. They can be used to attach fence rails to posts and "pickets" to rails. They can also attach gate brackets to fence posts. All of these points of contact are vital to a fence, therefore use high-quality screws.
Polymer-coated or stainless steel exterior screws are suitable for mounting fence boards, while outside structural screws are best for attaching fence rails to fence posts.
Below, we take you through the best screws for wood fence picks for creating your new backyard fence and ways to use them.
What are the best screws for wood fencing?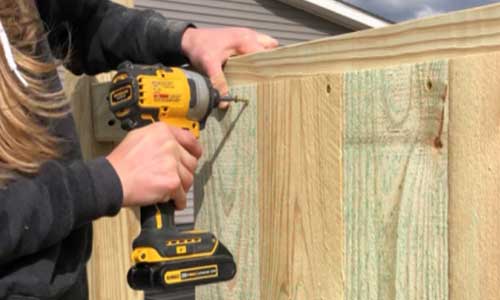 The choice of the best exterior screws for fence is very subjective. The choice may vary depending on the usage and the kind of fence you are using.
In general, nails can be pounded into a wooden fence swiftly and readily with little resistance from the wood itself. Screws take longer to install because holes must often be drilled first.
Furthermore, screws are often more expensive than nails. Screws, on the other hand, are more efficient and durable.
Besides, removing screws to make repairs or replace boards is easier and faster than pulling out nails. A single broken board is much easier to remove and replace than several nails driven firmly into the wood.
Moreover, screws are frequently a preferable choice for boards that serve as doors or gates. These fence sections are extensively used, resulting in increased wear and tear, damage, and replacements.
Screws enable these adjustments to be made with a few rapid changes. Stainless steel screws are hard to come by at a fair price.
As a result, galvanized or coated screws are used in the majority of projects. Like galvanized nails, zinc-coated screws prevent the wood from staining or rusting around the head.
Another common option is deck screws, which are epoxy-coated and come in a range of lengths and sizes. Deck screws are the best option for pressure-treated wood since they do not corrode or taint it.
Consider silicon bronze screws for fences near lakes, creeks, and riverbanks. The material is exceptionally rust and moisture-resistant, making it suitable for fence construction in this environment.
What size screws for wood fence?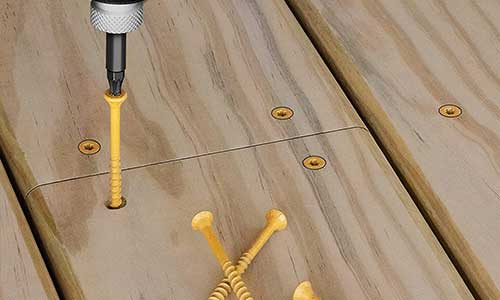 A fence's strength depends on its nails, and they're not all the same. When the wrong type of nail is used to make a fence, it's obvious. When moist, wood expands and contracts.
Expanding and contracting wood causes nails to work loose and pickets to fall off rails. Wood fences require nails to hold together rails, posts, and pickets or infill boards, regardless of design. Additionally, you can check our review on Temporary Fence.
Pine Fence
Untreated pine fences are the least corrosive, but it doesn't imply any nail may be used. Pine fences bend and twist pickets. Use 6-d (2-inch) galvanized ring shank nails for 1-by-4 or 1-by-6 fence pickets to reduce warping and curling.
Galvanized steel is cheaper than aluminum, but it corrodes and isn't suggested for cedar fences. Galvanized steel nails reduce fence costs. Besides, you can choose some Fencing for Garden.
Fence Rails
Nails used to fasten fence rails are just as crucial as those used to fasten pickets. The wrong size nail can cause cracking and panels to come loose from the posts. 16-d (3 1/2-inch) nails are ideal for fence rails. A ring-shank nail contains concentric ridges (rings) all the way down the shank, allowing the buried nail to grip the wood so tightly that it is difficult to take out.
The type of wood you use determines the right nail material. Aluminum and stainless steel are suitable for cedar and redwood fencing. Use hot-dipped galvanized or stainless steel nails for pressure-treated wood. Make sure you also check our guide for Paint for Pipe Fence.
Treated Pine Fences
Chemical preservatives in pressure-treated lumber prevent decay and insects. It's the cheapest wood fencing option. Chemicals in this sort of lumber are corrosive to steel and aluminum.
Hot-dipped galvanized nails withstand corrosion better than electro- or hot-galvanized materials. Stainless steel is best for pressure-treated wood. Pickets and infill boards need 6-d (2-inch) rink shank nails.
Cedar and Redwood Fences
Cedar or redwood fences look better than treated-lumber fences but cost more. Natural acids in these woods can corrode nails. It interacts with galvanized nails, causing the dark streaks on many fences.
Stainless steel is the most corrosion-resistant and non-bleeding nail material for cedar and redwood. Aluminum is appropriate in many climates, but stainless steel offers significant protection in coastal and rainy situations.
Fasten the pickets with 6-d (2-inch) nails and the rails with 16-d nails. Ring-shank nails hold best.
Wood Fence Screws Comparison Chart
| | | | |
| --- | --- | --- | --- |
| Name of the Product | Material | Head Style | Drive System |
| Deck Plus 48419 Wood Screws | Steel Alloy | Flat | Torx |
| Hillman Fasteners 48439 Deck Screws | Steel Alloy | Trap | Torx |
| Phillips Stainless Steel Screws | Stainless Steel | Pan | Phillips |
| Hillman 48604  Exterior Wood Screw | Steel Alloy | Flat | Torx |
| SNUG Fasteners Tan Fence & Deck Screws | Stainless Steel | Bugle | Torx |
| Velocity  Wood Screw | Carbon Steel | Bugle | Torx |
| WoodPro Wood Construction Screws | Alloy Steel | Square Torx | Torx |
Best Screws for Wood Fence Reviews
Following are our picks for the best screws for a fence for every need. Checking out the specifications will help you compare and pick your best-suited product.
1. Deck Plus 48419 Wood Screws │ Corrosion Free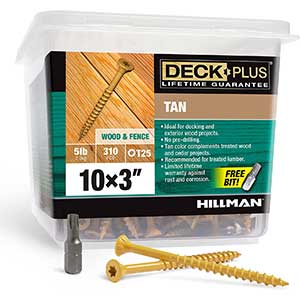 Key Features
Aggressive thread pattern for stiff hold
External epoxy layer
No worries about rusting
Beginner friendly
Are you worried about the hold of your fence screw? Then Deck Plus 48419 is here to your rescue.
The sharp conical end of the screw allows it to reach the farthest end of the deck. In addition, the stiff thread pattern of the shaft holds the deck firmly. Thence, users will always get a strong hold with the screw.
In most cases, novices struggle to get a hold of the screw while drilling. The star-like drive allows users to get an easy attachment while fixing the fastener.
For outdoor screws, the primary concern is resistance toward rusting. Deck Plus 48419 has an external coating of tan ceramic that helps to ward off oxidization. This layer, too, prevents corrosion.
Additionally, the screws come in a transparent plastic container. That way, it helps to keep all the screws organized without any mishaps.
If you are worried that rusted screws affecting your fence, Deck Plus 48419 is the way to go. The four layers of coating will guard against any form of rusting on your fence.
Most liking Features- With the self drilling facet, it becomes convenient for the users to insert the screw with no trouble.
Probable Drawbacks- The nail is a bit stiff to take off.
2. Hillman Fasteners 48439 Deck Screws │ Multifaceted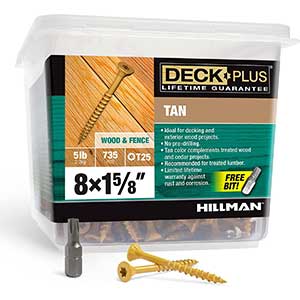 Key Features
Offers a sturdy hold
Corrosion-free composition
Self-drilling nails
Easy to install
When choosing metal accessories for outdoor usage, the primary concern is rusting. However, this is not the case with Hillman Fasteners 48439 deck screws.
In the making of these nails, the manufacturer uses a blend of metals with steel. This alloy steel composition leaves no room for rusting. Thence, you can use it in outdoors under adverse and humid weather conditions.
Another concern with nails is their ability to hold loads. Hillman Fasteners 48439 does the job pretty well. The nail reaches the farthest depth of the wood and holds up the deck without any hitching.
Even though many users complain about nail stripping, it can be fixed with a simple trick. The key here is to keep the drive aligned with the screw. That will do the task for you.
As per the packaging, the screws are titled self-drilling. Nonetheless, if you are working with hand tools, we recommend opting for a pilot hole first. This will make your installation way easier.
All in all, Hillman Fasteners 48439 will surely make it to the list of one of the best wood screws for fencing.
Most liking Features- Hillman Fasteners 48439 comes with a substantial load bearing capability.
Probable Drawbacks- There are not much of color options in the nail.
3. Phillips Stainless Steel Screws │ Durable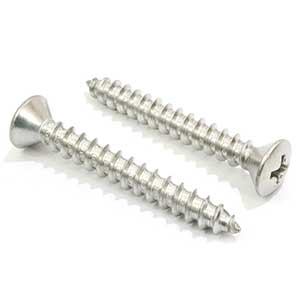 Key Features
Flat pan style head
Stainless steel build
Apt for professional usage
Lifetime Guarantee
Are you troubled with finding the right fit with your screws? If so, the worry remains no longer. Phillips stainless steel screws are here to the rescue.
The drive cut is deep enough to fit any hand tools. In addition, the pointed end of the shaft is sturdy enough to grab a strong hold over any surface. Thence, you will get a solid screw positioning while working with these deck screws for fence.
With the best screws for picket fence facets, many nails still corrode. However, Phillips stands as an exception. The screws are made of solid stainless steel.
Hence, there is nothing to worry about the scratches or corrosion from rust. And you can use the nails under wet and humid weather conditions.
Other than that, the nails come with a lifetime guarantee. That way, buyers can be assured about the utility of these nails.
Nevertheless, beginners may find the pan-style head pattern difficult to maneuver the nail. So, we recommend this variant for professional usage.
Most liking Features- The coarse shaft is easy to roll down the wood and provides a solid hold to the structure.
Probable Drawbacks- The drive system is not the most beginner friendly.
4. Hillman 48604 Exterior Wood Screw │ Hefty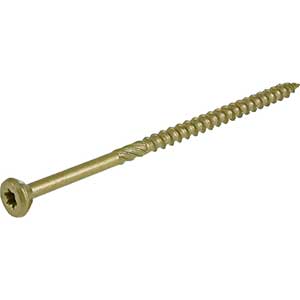 Key Features
Coating of epoxy bronze
Torx head pattern for a sturdy hold
Specializes in outdoor usage
Alloy metal to prevent rusting
Are you on the hunt for the best screws for a wood fence that is steel but worried about rust? Don't fret! Our pick for your demands will be Hillman 48604 exterior wood screw.
Unlike most wooden screws in the market, Hillman's nails have a blend of metals with steel. That way, the nails can prevent any corrosion and scratches as well.
Beginners often find it difficult to work with sharp wood screws. Nonetheless, there are no such difficulties while working with Hillman 48604. The convenient utility will make your attachment job of no sweat.
In order to reduce friction from drilling, the shank is a bit elongated and twisted. That allows the nail to insert deep inside the wood.
Apart from that, the flat head is apt for use with hinges. That way, the screw head will not bulge over your fence doors. Plus, the price is under budget as well!
These screws specialize in outdoor usage. On that account, you will need to have zero trouble using Hillman 48604 in your fencing.
Most liking Features- The Torx head pattern allows the user to ensure a snug fit over any surface.
Probable Drawbacks- Hillman 48604 is not apt for indoor usage.
5. SNUG Fasteners Tan Fence & Deck Screws │ Bugle Head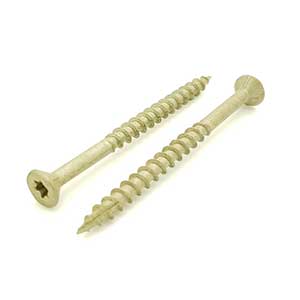 Key Features
Bugle style head
Carbon steel to resist corrosion
Suitable for outdoor usage
Comes along with Phillips
The key consideration when selecting metal accessories for outdoor use is corrosion. This is not the case, however, with SNUG fasteners tan fence & deck screws.
The production house combines a combination of metals with steel to make these nails. This alloy steel composition eliminates the possibility of corrosion.
On that account, you will not need to worry about using it outside in unfavorable and wet weather conditions.
Despite the fact that many customers complain about nail stripping, it can be solved with a simple approach.
Many nails rust even with top notch fencing screws aspects. SNUG fasteners, on the other hand, is an exception. The screws are made entirely of stainless steel.
The crucial factor here is to keep the drive parallel to the screw. This approach will complete the task for you.
Apart from that, the shank slots on these fencing screws are placed up the shaft. This placement allows you to avoid splitting while getting fast starting and speeds in insertion.
The screws are labeled self-drilling on the box. However, if you're working with hand tools, we recommend drilling a pilot hole first. That way, you will get a better fit.
Most liking Features- The load bearing capacity of these steel screws are up to par.
Probable Drawbacks- The packaging of SNUG Fasteners is not up to par.
6. Velocity Wood Screw │ Heavy duty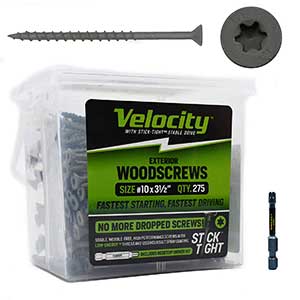 Key Features
Durable without the worry of corrosion
User friendly
Hefty construction for long-term usage
Phillips for a snug fit
While choosing exterior screws for fence, it is crucial to pick nails that have long life. It must withstand harsh weather conditions.
When the demand is such, nothing can beat Velocity wooden screws. The screws have an unique rust resistant layer to prevent any form of rain even under rain and snowfall.
Besides, the coil on the shaft deserves a separate mention. The tight coil on the nail shaft allows to get a suitable fit without much effort. Hence, beginners will get a great deal of usage out of it.
Furthermore, the shank slots on these Velocity screws are situated up the shaft. This positioning helps to avoid splitting while ensuring fast starting and insertion speeds.
Additionally, the screws also have screw threads rolled all the way to the tip of each screw for fast starts. Hence, you will not need to worry about quick and accurate screw positioning.
A quick bit of information- this nails come in bulk. Therefore, buy this only if you have more projects in hand. The plastic package will keep it in perfect shape.
If you are a novice and not sure what screws for fence to use, you can opt for Velocity wood screw. The utility will speak for itself.
Most liking Features- Additional Philips in the package allows the consumers to get an amplified fit.
Probable Drawbacks- At times, the packaging can be flimsy.
7. WoodPro Wood Construction Screws │ Torx Head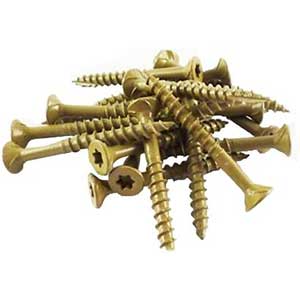 Key Features
Resistant to rusting
Durable alloy steel blend
Gold galvanization for sheen
Solid packaging
Even though most screws can take a substantial amount of weight, they are not of the right fit. However, WoodPro wood construction screws solve the issue.
The sequential and solid series of coils in the shaft makes the screw easy to place and insert. As a result, you will get a solid placement with little effort.
Besides, the Torx head pattern makes these exterior screws for fence easy to work with. Beginners will have zero trouble using the drive and nails.
Just like other wood fence nails in this list, these too, are resistant to corrosion. In that case, you can use the nails in humid weather without worrying about their longevity.
Additionally, the wood construction screws come in sturdy box packaging. That way, it becomes easier to keep the screws organized at arm's reach.
If you are on the hunt for a decent nail set that will last you for a long, this is the probable solution. Buying these fencing screws in bulk will serve you in your upcoming projects as well!
Most liking Features- The alloy steel blend makes the screw more durable and resistant to any form of corrosion.
Probable Drawbacks- The package might contain a few snapped nails.
Things to Consider Before Buying Screws for Wood Fence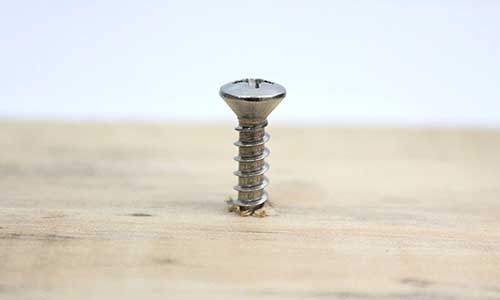 Fasteners are critical to the long-term performance and appearance of a wood fence. There are several fastener types to consider. How would you know the best wood screws for fencing to purchase?
In this section, we'll provide clarity and assist you in making an informed fastener option for your fence and application. Fastener material, screws or nails, and fastener length are the three categories.
Built Material
The substance of the fasteners will be determined by the type of wood used to construct your fence. Some fastening materials and wood species may not get along, resulting in unfavorable responses that compromise the fence's look and structural integrity.
Pressure-Treated Pine
For pressure-treated wood, use the right fasteners because the preservatives can cause the fasteners to corrode.
These fence fasteners vary in price and strength, so choose the one that best fits your needs. Follow the fastener manufacturer's recommendations to ensure you're using the right fastening material for your fence.
Non-Pressure-Treated Pine
Galvanized steel or other fasteners are suitable for use with non-pressure-treated wood fencing. Because the wood is not pressure-treated, the fastener material will not react negatively to it.
Cedar
Use pure steel, aluminum, or polymer-coated fasteners on cedar fences. The zinc in the fasteners tends to react with the acids in the cedar, resulting in corrosion streaks. For that, we suggest avoiding galvanized steel fasteners.
Length of the Fastener
Whether you choose nails or screws for your fence, the length is critical to its success. It is recommended to use 18d to 20d nails or 3-1/2 inches to 4 inches long screws to fasten pre-assembled panels or backer rails to posts.
Individual pickets should be attached to the backer rails with 8d to 10d nails or 1-1/4 inch to 1-3/4 inch long screws.
Nails or Screws – Which One to Pick?
The "screws vs nails" debate boils down to personal preference. Each has advantages and disadvantages. Nails are easier to install than screws, which means less work for you or your builder (which may translate into lower establishment costs).
Regardless, fencing nails are more prone than screws to go free over time. Screws, on the other hand, secure the fence better than nails. They also ensure simpler rework if you need to replace a harmed picket.
On a wood fence, you can use both screws and nails – some builders use nails to attach the pickets to the backer rails, then screws to attach the backer panels/rails to the posts.
Price
People usually go to the store and buy the lowest screws they can find in order to create everything. Many times, these are screws that are only supposed to be used indoors, where they will never get wet.
Drywall and zinc-coated screws should not be used outside. They rust quickly and degrade until they can no longer support your fence board or fence rail.
FAQs – Frequently Asked Questions & Answers
1. Can I use Zinc coated screws for fencing?
No.
Nails with Zinc coating are not meant for outdoor usage. They will rust quickly and deteriorate until they can no longer support your fence board or fence rail.
2. What length screws should fence pickets have?
We suggest screws that are 3-1/2 to 4 inches long to fasten backer rails or preassembled panels to fence posts. If you are attaching separate pickets to backer rails, use fencing screws that are 1-1/4 inch to 1-3/4 inch long.
3. Can screw be used on fence boards?
If you're thinking about putting up a wooden fence on your property, you might be wondering which one to go with.
The truth is that both sorts of fasteners will suffice. Screws and nails are both used to join wood parts.
4. What are the dimensions of wood fence posts?
The recommended dimensions for the best wood screws for fencing are 1 inch by 4 inches by 6 feet. Because wood posts will bear the majority of the weight of the fence, they should be larger than the panels and railings.
Choose post materials that are 4 inches wide and 4 inches thick, resulting in a square hardwood board for your post.
5. Should you build a fence using screws or nails?
Screws hold wood together better than nails, joining two boards together more firmly. Screws also stay in place much longer than nails, which can loosen over time.
So, if you were to choose between the two, you should go with screws to secure a fence.
Final Words
Screws hold the entire fence structure together. In the end, cheap inside screws and the time it takes to replace each screw will cost you more.
Henceforth, it is not wise to compromise on the quality of the screws you use. Use the right screws for your new fence for a good-looking, long-lasting DIY project.
We hope our selection and guideline for the best screws for wood fence came in handy for you. Don't forget to share your thoughts with us!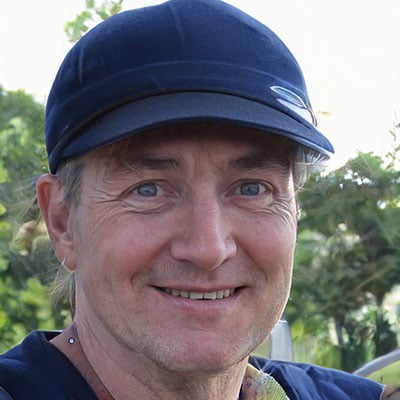 David, the founder of The Garden Fixer, started with a passion for gardening in 2012. He has continued his passion for gardening and desire to improve his skills and wanted to share his journey and helpful knowledge with other like-minded individuals.
He launched The Garden Fixer as an outlet for those interested in learning more about Gardening in hopes they can take what they learn and apply it for themselves!