Are you troubled with privacy issues at your place? Is the fencing not providing you substantial solitude?
If the answer is affirmative, then fixing the privacy screen can be a solution.
You can easily make your yard more secure and private with the addition of a privacy screen to a fence.
Adding a screen will aid in deterring burglars from targeting your house. Added to the benefits, it will keep nosy neighbors at bay!
Nevertheless, it all comes down to the installation. You can ensure proper look and functionality with accurate installation. And the converse is true of faulty installation.
To solve all the hassle, our expert team sat down to find a convenient installation method. After an in-depth factfinding, our team came up with an ergonomic method.
And we will share the technique with you today. Continue reading to find a hassle-free method to attach a privacy screen to the fence. Additionally, you can check our review on Privacy Screen for Chain Link Fence.
Let's begin!
Picking the Best Privacy Screen to Use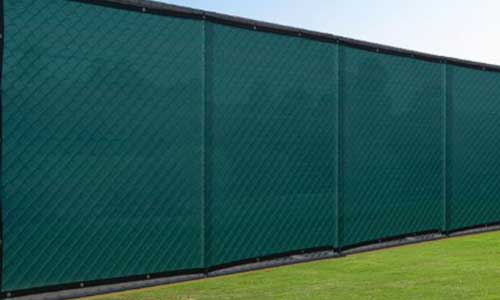 The first step is to select a privacy screen that caters to your needs. It's crucial to choose a privacy screen that complements your wood fence from the many varieties available.
If your fence is made of solid wood instead of chain-link, you'll need another privacy screen. Reeds, bamboo, and willow are the most widely used materials for privacy screens. Slats, lattice panels, or even privacy netting are other options.
You should consider a few things while selecting a material for your privacy screen. That way, the chances of mishaps are reduced.
For instance, it is crucial to check your budget and needs before investing in a privacy screen. Likewise, the screen will vary depending on temporary or permanent lodging.
In the upcoming section, we will focus on discussing the pros and cons of privacy screens. That will you make your choice easier.
Privacy Screens – the Typology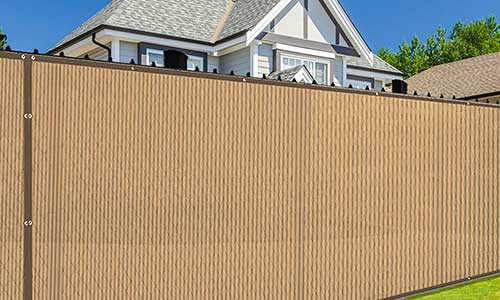 Here to mention, each of the privacy screens has its strengths and weaknesses. On that account, we recommend scrutinizing each of the products. That way, you can get the most use out of the privacy screen.
Reed Privacy Screen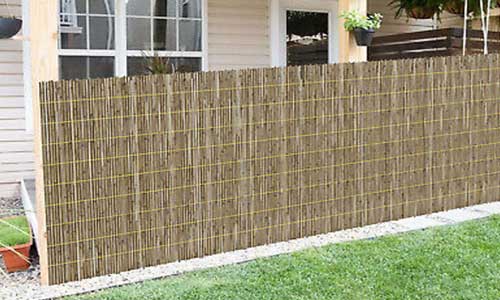 Because they are lightweight, flexible, and simple to deal with, reeds are an additional popular option for privacy screens.
Custom privacy screens are ideal for them because they can be woven into a wide range of forms and sizes.
One of the more cost-effective choices on the market is reed privacy screens.
Willow Privacy Screen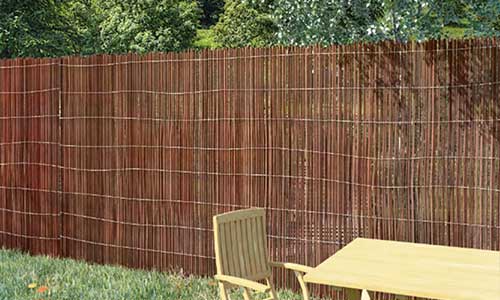 If you're searching for something that is both aesthetically beautiful and practical, willow privacy screens are a terrific option.
Willow is a lovely wood that can be painted or stained to compliment your current fence. Additionally, it is a very durable material that will give you years of seclusion.
Bamboo Privacy Screen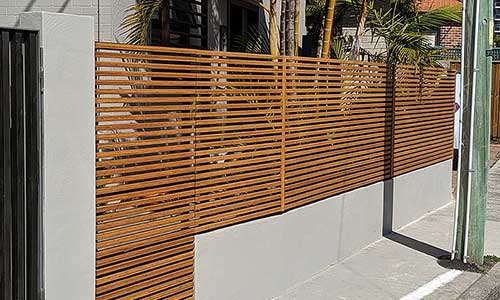 Because it is sturdy, long-lasting, and thick, bamboo is one of the greatest materials to use for a privacy screen.
It is a great option if you require total seclusion because it may grow up to 12 feet tall. Additionally affordable and simple to install, bamboo privacy screens.
Privacy Netting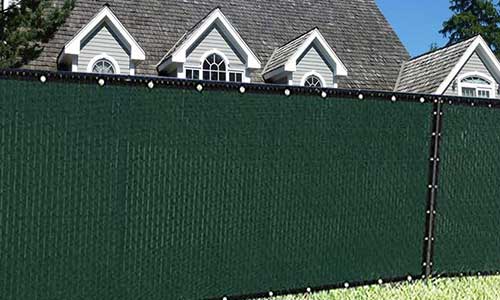 If you want complete privacy without completely blocking out the light, privacy netting is an excellent option. Additionally, if you have a chain-link fence, it is a wise decision.
With screws or zip ties, privacy netting is simply installed and is offered in several colors.
Lattice Privacy Screen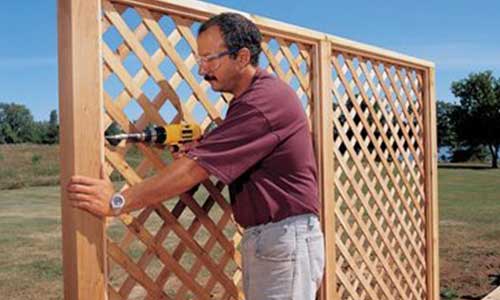 If you want to decorate your fence while maintaining privacy, lattice privacy screens are a good option.
Pre-fabricated lattice panels are available in a range of materials, including metal, plastic, and wood. To complement your fence, you can either paint or stain them.
Slat Privacy Screen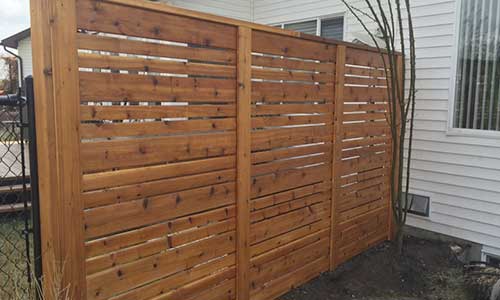 Similar to lattice privacy screens, slat privacy screens are built of individual slats rather than panels.
Wood, plastic, and metal are just a few of the materials that can be used to create the actual slats. They can be stained or painted to match your fence and come in several colors.
Things You Will Need to Attach Privacy Screen to Fence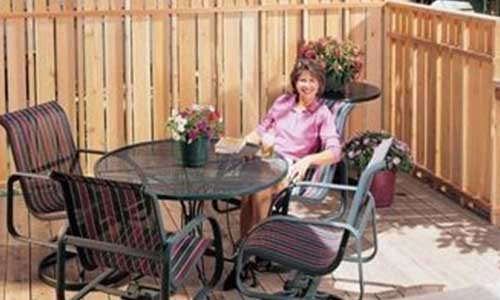 Apart from the screen and the panel, you will need a handful of tools to install the privacy screen. Sorting these things beforehand will make your task way easier. Here are the primary things that you will need to attach a privacy screen to the fence-
privacy screen
wood fence panels
tape measure
pencil
 screws
drill/driver
level (optional)d ab
saw (if required)
Steps to How to Attach Privacy Screen to Fence
There is nothing complicated about attaching a privacy screen to a fence. With all the equipment at your arm's reach, you can set up a privacy screen with little toil.
Our experts have broadly divided the total procedure into two steps. Continue reading to find more details.
Step 1: Measuring and Cutting the Fence Panel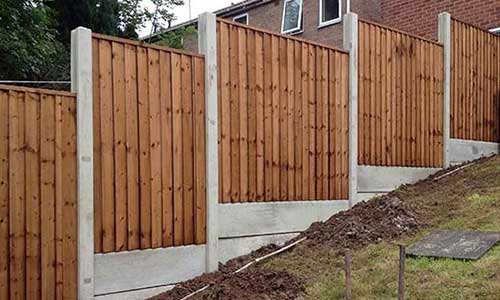 The privacy screen panels need to be measured and cut to fit your fence as the first step.
In some cases, privacy screening comes in rolls. If you are using one of those, you'll need to unroll it and use a saw to trim it to size.
It's time to go to the following stage once all of your panels have been cut!
Step 2: Fastening the Privacy Screen on a Wood Fence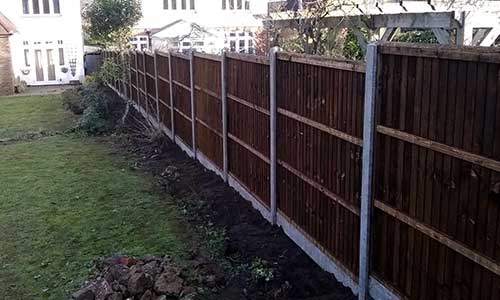 It's time to attach the privacy screen panels to your fence now that they have been cut to size. Simply use screws that are fitting for the sort of fence you have to assemble the panels in this manner.
Consult the manufacturer's instructions or a worker at a hardware shop if you're unsure of what kind of screws to use. You're done when every panel is in position.
Alternative Way to Attach Privacy Screen to Fence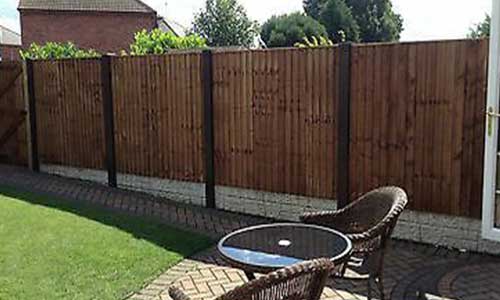 There's no need to worry if after reading through these steps you feel overwhelmed. You may always have the work done by hiring a skilled fencing business close to your house!
You get a bunch of benefits if you contact a professional to add one to your wood fence. Professionals will install your privacy screen accurately. Additionally, you can modify the fencing according to your specifications.
Moreover, you won't need to be concerned about making any blunders that can harm your fence.
Therefore, if you're unsure of your abilities to install a privacy screen on a wood fence yourself, get a pro to do it instead!
What keeps the panel attached to the fence?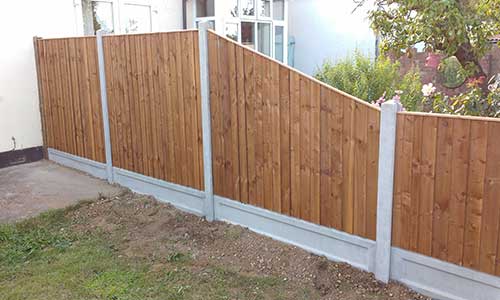 The use of sturdy plain screws keeps the screen attached to the fence panel. Since the attachment depends solely on the screw, it is crucial to pick the right one.
Is there any inconvenience in using the rolled screens?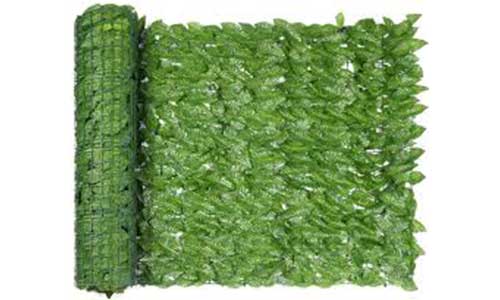 No. Once rolled out, there will be no trouble using the privacy screen. You can trim the edges and customize the screen as well.
Which screws are apt to use in the screen panel?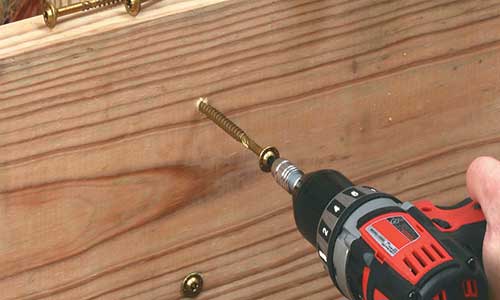 The size of the screw will depend on the screen panel that you use. Checking on the empty spaces between the panel will allow you to decide on the size of the screw.
What are the most conventional screens used on fencing?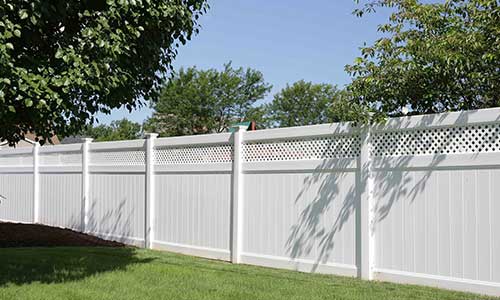 The use of a privacy screen is very subjective. Depending on your demands and budget, you can opt for natural or artificial privacy screens.
Is there an eco-friendly alternative for fence screening?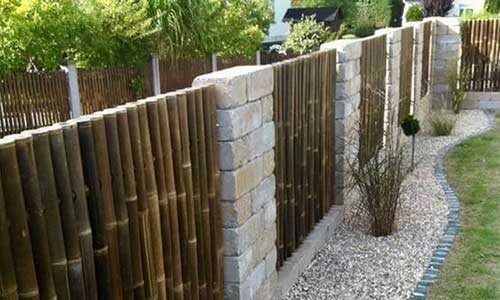 Yes. Most privacy screens are made out of bamboo and wood. Needless to say, all of them are bio-degradable.
Do I need to call a professional for the task?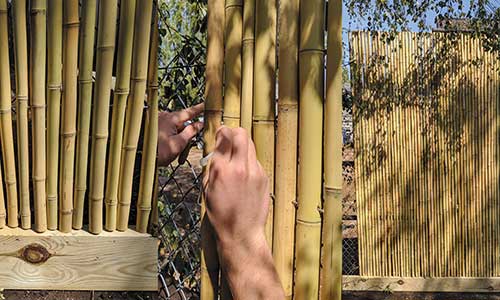 No. Installing privacy screens is nothing of a tough task. You can easily do the job sitting at home. Nevertheless, you can seek professional help if the procedure seems overwhelming to you.
Can I customize the privacy screen?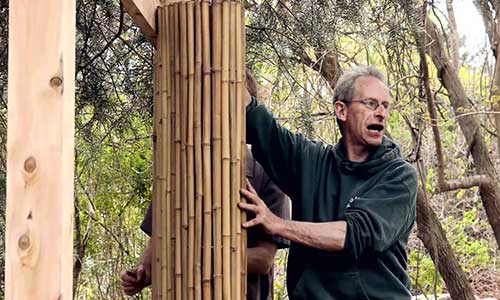 Yes. Privacy screens are plain coverings with no prior patterns. Therefore, users can trim and use it at their convenience.
How to Install Fence Fabric For Instant Privacy?
Final Words
The appearance and feel of your home can be greatly enhanced by adding a privacy screen to a wood fence. You and your family will have privacy, and it may also add an added layer of security.
Enjoy your new privacy screen and the improved home security and privacy it will bring.
We hope you found our article informative enough to install a privacy screen. Don't forget to share your secrets for easy installation!
Best wishes!
Related Post: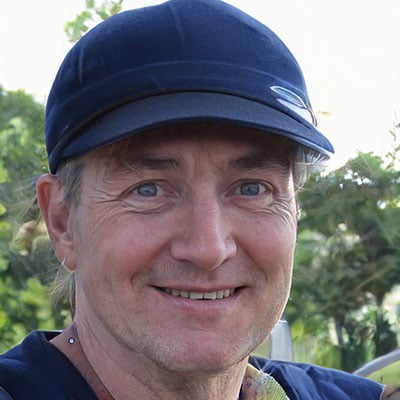 David, the founder of The Garden Fixer, started with a passion for gardening in 2012. He has continued his passion for gardening and desire to improve his skills and wanted to share his journey and helpful knowledge with other like-minded individuals.
He launched The Garden Fixer as an outlet for those interested in learning more about Gardening in hopes they can take what they learn and apply it for themselves!