Cultivating lands is no easy task. Along with environmental factors, it takes a lot of sweat and toil to get the expected harvest at the end of the season.
But luckily, there are a handful of tools to make your agronomic task convenient. Like a seeder. Sowing seeds at regular intervals can be tiring and time-consuming. This is where a plot seeder comes to play.
A plot seeder rips the soil and sows the seed while maintaining an even distance. It gets rid of all the weeds while maintaining the evenness of the soil. Nonetheless, finding the best food plot seeder itself is not an easy task.
For that, we will help you with an all-around guide to picking a seeder for the plot. Continue reading to find more!
What is the difference between a planter and a seeder?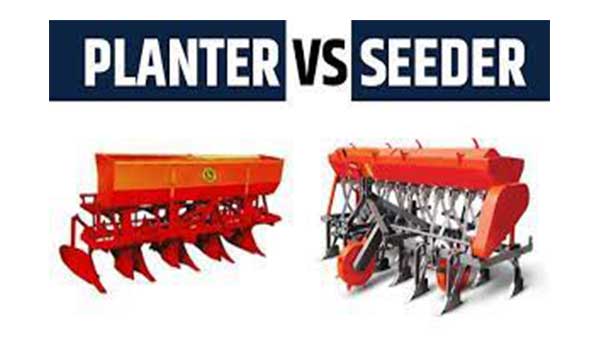 For planting and seeding, planter and seed drill equipment are ideal. Essentially, there is not much of a difference between a planter and a seeder. Both offer almost the same functions, but the usage varies based on crops.
To operate the equipment securely and effectively, it is primary to know some facts.
In the debate between planters and seeders, the task is more important than the tools. In fact, both of them are comparable in function and design.
A tractor attachment made for planting corn and legumes is commonly referred to as a "planter." When it comes to rain planting, seeders (also referred to as drills) are the most efficient.
Again, the seeds are planted one at a time using discs placed inside each row by the planter. A seeder more closely resembles a seed flow through tubes. Although there are no discs to insert each seed separately, you may still meter it.
Regardless of the seeds, you plant or the nomenclature for the machine you use, safety is a must.  For that, you require the attachment to operate at peak efficiency for reasons of efficiency and safety.
Therefore, take a moment to carry out a few simple tests before deploying your attachment. Additionally, you can check our review on Drag Harrow.
How does an overseeder work?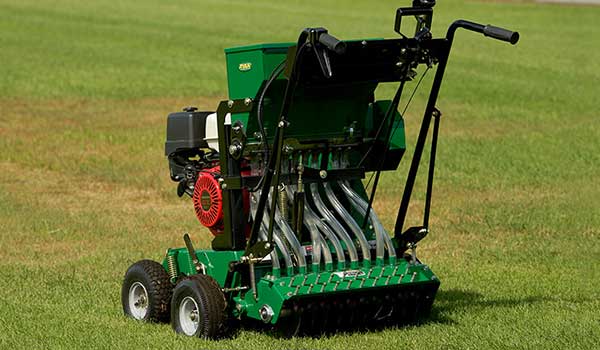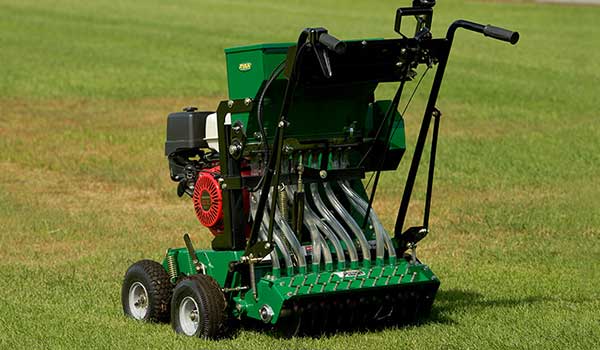 You need a variety of yard maintenance tools and equipment when it comes to taking care of your lawn.
Overseeder is a skilled seed planter who can make your life easier when remodeling a yard. If you want to achieve your ideal of having a lush, healthy lawn, overseeding is essential.
There are several excellent options, such as broadcast spreaders. Nevertheless, an overseeder typically produces better results.
To operate a food plot drill seeder aptly, it is imperative to understand its functionality.
The overseeder works in a rather simple manner. The exact duties of an overseer are as follows:
To make furrows in the soil, the machine first uses blades to cut into it, which is why it is also known as a slice or slit seeder.
Then, your grass seeds are poured into the ruts.
Remember that as the grass seed is dropped, the machine's concave disk blades maintain the slits open.
Since the seed is in direct contact with the earth, germination and establishment are sped up.
We should also mention that you can alter the slitting depth to attain the ideal results by adjusting how deeply you want it to penetrate the soil (or based on the recommendations of your seed supplier). Besides, you can choose some Field Cultivator.
Food Plot Seeder Comparison Chart
| Product Name | Operation | Capacity | Mounting Type |
| --- | --- | --- | --- |
| Scotts Elite Food Plot Seeder | Manual | 20,000 sq. ft. | Spread |
| Scotts Wizz Food Plot Seeder | Manual | 2,500 sq. ft | Spread |
| EarthWay 1001-B Food Plot Seeder | Automatic | 1.00 Count | Spread |
| Agri-Fab 45-0463 Food Plot Seeder | Automatic | 130 lb. | Spread |
| Moultrie ATV Food Plot Seeder | Automatic | 100 lb. | Spread |
| Buyers Products ATVS100 Food Plot Seeder | Automatic | 100 lb | Spread |
Top 6 Best Food Plot Seeder Review
Following are our picks for food plot drill seeder options in the market. Going through the specification will assist you in comparing and picking the suitable one for you.
1. Scotts Elite Food Plot Seeder │ Functional Design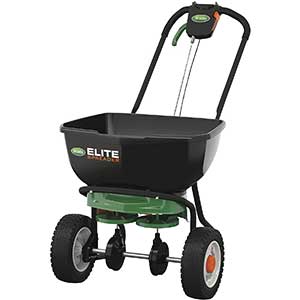 Finding a plot seeder that covers a large area with apt functionality can be difficult. Luckily, Scotts Elite solves the issue.
With a commitment to large area seeding capacity, the overseeder lives up to the expectations. Plus, the large seed holding capacity makes Scotts Elite an ergonomic pick for plot seeders.
Additionally, to make the seeding quick and convenient, there are two spreaders in Scotts Elite. Sowing and seeding have never been this easy!
There is no doubt that the food plot drill seeder has a substantially high storage capacity. Nonetheless, we suggest not filling the plot seeder to its brim. Doing so might create logs and disrupt the functionality.
With little assembly work and convenient application, Scotts Elite is a choice for one and all. If you have the scope to splurge, we recommend you not to hesitate. You will get utility worth the price tag. For more suggestions, you can read about 1020 Trays.
Most liking Features-
One unique facet of the seeder is it can spread granular and coarse particles with no sweat.
Probable Drawbacks-
The quality of the wheel in the seeder is not up to par.
Key Features
Quick feeding and weeding
Smartphone holder over the handle
Large area coverage
Speed control options
2. Scotts Wizz Food Plot Seeder │ Compact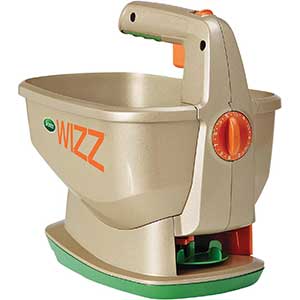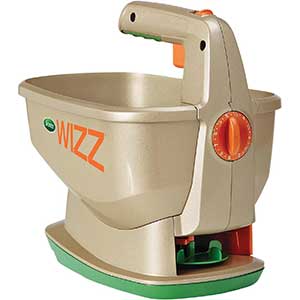 When it comes to the best food plot planter selection, most of them are bulky. It often gets troublesome to work with these seeders in a compact space.
Don't worry! Scotts Wizz's overseeder is here to the rescue.
Since the structure is compact, users won't need to worry about storing the seeder. It will save up space and fit into any corner of your storage.
Additionally, the spreader will give you maximum control over the spread of the seed. Although some might question the ergonomy of this hand-held seeder, we would disagree.
As the tool has an even weight distribution throughout, there is no fatigue from using the tool. Additionally, the use of a battery eliminates the trouble of recharging.
Nevertheless, we do not recommend using very coarse particles in the seeder. The rough surface might have a reverse impact on the battery of the device.
If you have a small land area and want a seeder that is compact, Scotts Wizz will serve your needs. You can read about Different Types of Cultivators.
Most liking Features-
Apart from sowing, consumers can use the frontier food plot seeder to spread pesticides and fertilizer.
Probable Drawbacks-
There is no option to even out the soil.
Key Features
Hand-held compact pattern
Easy to carry and store
Versatile functionality
Ideal for lawns
3. EarthWay 1001-B Food Plot Seeder │ Flexile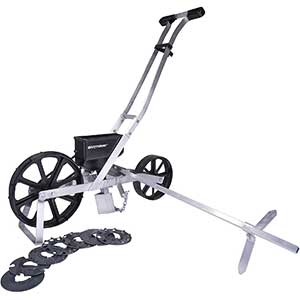 The options for plot seeders in the market are unlimited. Nonetheless, how many of them have an option to adjust the depth of sowing? Well, we have found one- EarthWay 1001-B.
What makes EarthWay 1001-B stand out is the option for depth customization. A sturdy furrow plow allows you to precisely control seed depth. This precision garden seeder is ideal for planting food plots and medium-sized gardens.
The fast sowing capacity of the plot seeder will surely amaze you. Even the quick sowing has zero effect on the even distribution of seed.
While going through the specifications, you might question the durability of the metal blades. Don't fret! All metal parts of this food plot seeder are corrosion-proof.
EarthWay 1001-B is the ultimate pick for seeding tasks. Yet, recommend this seeder solely for professional usage. Novices might get bewildered by so many attachment options and operations.
Most liking Features-
Coming out of the traditional pattern, EarthWay 1001-B is an orthodox pattern. That way, no one will face difficulties to use the overseeder.
Probable Drawbacks-
Having so many seed plates can be perplexing for novices.
Key Features
Apt for professional use
Multiple seed plate attachment
Fast consistent sowing
Unisex pattern
4. Agri-Fab 45-0463 Food Plot Seeder │ Pull Behind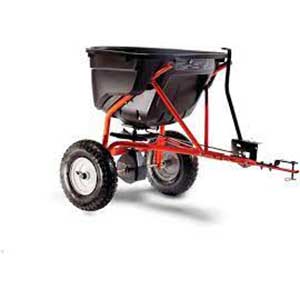 While most food seeder provides an efficient output on the lawn, most fail in the bumpy fields. This is where Agri-Fab 45-0463 stands out.
The primary concern with professional-grade plot seeders is their ability to withstand hitching issues. With Agri-Fab 45-0463, spreading seeds over hill tracts and rocky surfaces of no sweat.
To make the usage more ergonomic you can use the spreader as a tractor attachment. The result is equally satisfactory.
Moreover, the hub holds up seeds, pesticides, and fertilizers in a bulk amount. And the plastic tub eliminates worries of corrosion.
Over and above that, there is an option to avail hood and grate for the overseeder. Getting any of these accessories will make a substantial addition to the plot seeder.
It won't be exaggerating if we say Agri-Fab 45-0463 is one of the best food plot seeder for fields. Nonetheless, it is not the most feasible tool for compact spaces like lawns and gardens. Herefore, skip on this for lawn usage.
Most liking Features-
Unlike any other big boys, this seed spreader has a straightforward assembly.
Probable Drawbacks-
The metal parts of the tool are not up to par.
Key Features
No hitching on uneven surfaces
Inexpensive yet efficient
Approximate 1 acre area coverage
Quick and convenient installation
5. Moultrie ATV Food Plot Seeder │ Durable
At first glance, Moultrie ATV might appear to be yet another seeder attachment. But what makes us put this spreader on our list of overseeders? Let's get there!
Unlike others, Moultrie ATV food seeder has an automated food dispenser. Users can regulate the dispenser with the help of a remote. For that, users can control the seed deposition and reduce the seed wastage as well.
Besides, the motor life adds up to the efficacy of this plot seeder. This gigantic motor will serve you through and through, even on the longest days.
Another important facet about this overseeder is that it requires almost zero assembly work. You can get away with following the manual only. So, beginners won't go through a tough time with this seed spreader.
Nevertheless, Moultrie ATV has its own odds. Once in a while, the dispenser gets jammed due to overloading issues. Hence, we recommend loading the truck in small batches.
All in all, if you have a tractor already, Moultrie ATV will make a considerable seeder attachment. That too, without digging a hole in your pocket.
Most liking Features-
As Moultrie ATV is a tubular entire structure, it demands zero to no assembly for installation.
Probable Drawbacks-
At times, the dispenser gets jammed from overloading.
Key Features
Electric gate dispenser
Easy to mount and unmount
Quick refilling option
Long-lasting built
6. Buyers Products ATVS100 Food Plot Seeder │ Versatile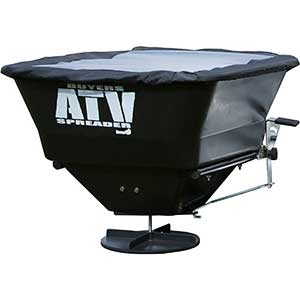 One of the biggest challenges with the over seeders is they jam up with the loading of coarse particles. Our last pick for today's selection is Buyers Products ATVS100 surely solves the issue.
While testing, we didn't find any jamming issues with this seeder. In fact, it can withstand most coarse-grained products including rocksalt and chloride.
Moreover, the entire structure is made up of stainless material. That way, you won't need to worry about using the feeder in moist weather.
In this selection, we tried to pick plot seeders that are convenient to assemble. Buyers Products ATVS100 is no exception here. Buyers can assemble this lightweight feeder within minutes.
Nonetheless, this overseeder is not battery operated and demands a direct supply of power. For that, we prefer opting for a plug rather than a motor. That will make the seeder more feasible to use.
If you want more functions from the seeder Buyers Products ATVS100 is an easy way out. Hunting, landscaping, or grounds maintenance- you can do it all with this overseeder.
Most liking Features-
This tent-like deer plot planter is foldable and can be stored in any corner of the house. That makes it portable as well.
Probable Drawbacks-
The overseeder cannot function without a tractor.
Key Features
Coarse particle dispense friendly
Multifunctional tool for hunting and more
Rust-proof built
Lightweight and easy to store
Things to Consider Before Buying food plot seeder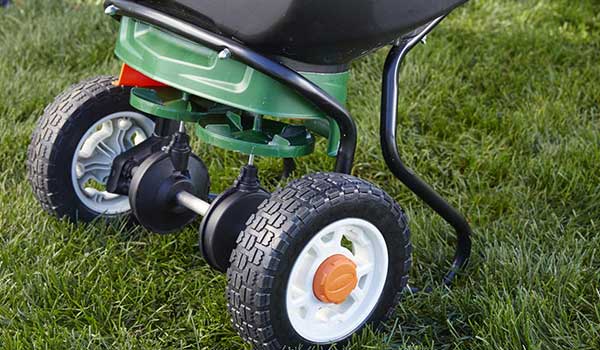 When purchasing The Best Seeder for Deer Food Plots for the first time, it is easier to become perplexed. To better assist you in understanding the items you need, we have developed this buying guide.
For the best seeder, look through the items listed below and make any necessary adjustments.
This overseeder selection guide will truly help you if you're still unsure.
Season
The planting of food plots for deer and other wildlife is divided into two seasons: cool and warm. Cool-season forages such as wheat, rye, oat, clover, and brassicas should be planted in the fall or early spring, and the sprouts should grow all year.
Brassicas are popular among deer because they are easy to establish and grow quickly. plus, they can be grown in a wide range of climates and soil types.
Furthermore, because most cool-season forages are perennials, they will return the following year after planting.
Warm-season blends should be planted in the spring and grown through the summer and into the fall. Forages such as soybeans, corn, sorghum, cowpeas, and other agricultural crops are included in these mixtures.
Dispenser
It might appear to be as insignificant but that's not completely true. The overall spreadability of the overseeder lies on the dispenser. On that account, you cannot compromise in the dispenser of your plot seeder.
Thence, check if the dispenser has a substantial throw. Jammed dispensers are a bit off point.
Nonetheless, heavy loading disrupts the overall performance of the dispenser. Therefore, we recommend loading the seed in several batches. And regular cleaning is a must!
Durability
Plot seeders are no less than an investment. So, it is imperative to invest in a tool that will serve you in the long run.
While buying a seeder for your plot, make sure the tool has all parts in function. Also, check for the attachments for a precise setup. Assuring that the metal blades are in shape will take you a long way.
Additionally, cleaning the entire seeder at regular intervals will keep the tool in a good state.
Price Range
Surely, a higher price tag will add up a bunch of advanced facets. Nevertheless, before hopping for that exorbitant overseeder, ask yourself if the purchase is cost-efficient for you or not.
We as a team are a firm believer in cutting coats according to the cloth available. Likewise, we would recommend getting a bargain seeder that caters to your needs. For that, preparing a checklist beforehand will come in handy while picking a seeder.
Attachment Options
No single attachment can help you in sowing and seeding all different kinds of seeds. For that, you will need multiple seeding attachments.
In most cases, 3 point food plot equipment doesn't have that many attachment options. In such instances, you might need to purchase the attachments separately.
However, we will recommend you to invest in an overseeder set with several attachment options. That way, you can get multiple functionalities while saving on some bucks.
Frequently Asked Questions & Answers
1. Will rock salt be dispersed by the seeder, or only the smaller, more uniformly sized chemicals?
No.
Rock salt particles can be heavy and big for your overseeder. Using your seeder with rock salt can cause damage to both the battery and the machine.
2. Can you tell me about the mechanism of an overseeder?
There is nothing complicated in the mechanism of the john deere food plot seeder. The machine splits the soil and sows the seed. You can find a detailed description in the dedicated section above.
3. Are there any cultivators that have a seed drill?
Yes.
It is simple to get an all-in-one, multi-purpose seed drill with cultivators. Many of them aid in seeding and soil preparation without switching out equipment or taking a lot of time.
4. How does the spread fare when salt is added throughout the winter?
During the winter months, you can easily use the plot seeder to spread salt on the pavement. Each seed drill has a specified spread range. So, the spread may vary from one seeder to another.
5. What benefits can seed drill machines offer?
Automatic seed drill machines for tractors are ideal for sowing seeds. The best food plot seeder for deer sow seeds at proper distance and depth to ensure quality crops. They save time and money while improving the quality of farm produce.
Final Word
Without proper care, the best food plot seeder won't serve well in long term. Make sure to clean up the blades and discs at regular intervals. This will assure maximum output and result in your desired harvest.
That was all about the plot seeders' selection and their utility. Hope this guideline helps you in picking your desired tool with minimum toil.
We believe there is always room for improvement. So, share your thoughts and suggestions with us.
Good luck!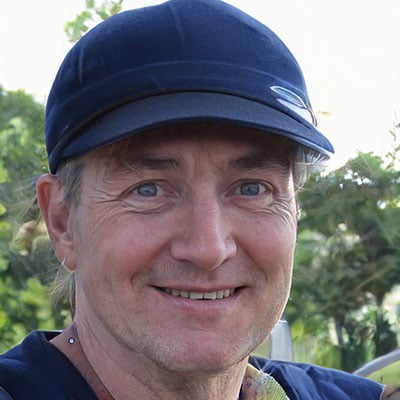 David, the founder of The Garden Fixer, started with a passion for gardening in 2012. He has continued his passion for gardening and desire to improve his skills and wanted to share his journey and helpful knowledge with other like-minded individuals.
He launched The Garden Fixer as an outlet for those interested in learning more about Gardening in hopes they can take what they learn and apply it for themselves!