Your wall might look festively decorated by adding wood to brick. It's not always possible to drill into beautiful walls like the mantle due to the damage.
On that account, it can be challenging to decorate a brick wall with wood attachments without drilling into the wall.
The holes in the brick wall are difficult to heal. Besides, it can damage the original texture of the brick wall. For that, many people choose to decorate their brick walls without drilling into them.
Nevertheless, you might question the sturdiness of the trellis without drilling. Additionally, some might get overwhelmed with the overall attachment process.
Don't be fret! In this article, we will help you to find ergonomic ways to attach a trellis to the brick wall without drilling. Checking the Fencing for Garden will be helpful as well.
Let's begin then!
How to Attach Trellis to Brick Wall Without Drilling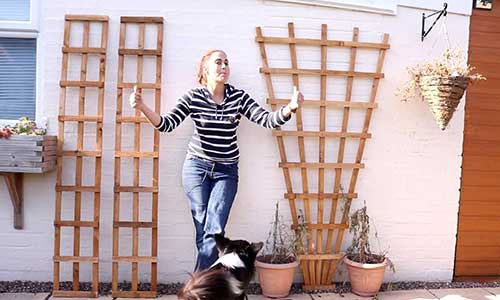 It is crucial to understand how to fasten wood to masonry without drilling for this reason. The wooden decorations can be hung using brick wall clips.
The size and weight of the wood that you intend to connect to the brick wall also come into play. These brick connectors are strong—they can support up to 25 pounds—and don't require drilling.
Even though they are made to fit into the majority of bricks, make sure they will fit into your brick wall by checking the specifications.
There is no singular way of attaching a trellis to the brick wall without drilling. Everyone has their unique process of conducting the task. But the beginners might find the procedure bewildering.
For that, we will share two methods of attaching the trellis. You can master either of these methods without much toil. For more suggestions, you can read about Trellis for Cucumbers.
Method 1: Attaching Wood to the Brick Using Brick Wall Hooks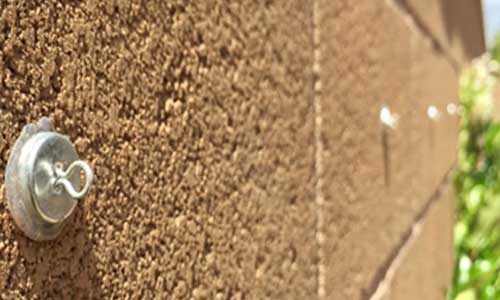 Brick wall hooks are the most effective alternative to drilling when it comes to attaching wood to brick surfaces.
Such hooks are designed to work with brick walls, including those that are somewhat curved. These clips may be removed easily. And the best part is, that they do not require any adhesive (hold up to 25 lbs).
They may be installed in a matter of seconds, and more importantly, there is no need to drill any holes.
But what if you require a more heavy-duty hanging strength that can support up to 30 pounds? In such instances, we recommend you use a brick clamp.
They are durable clamps that are suitable for use both indoors and outside, and because they are paintable, you may give them any color you desire.
Do not forget to measure your bricks before purchasing a clip or clamp. That way, you are sure to get a proper fit. Additionally, you can check our review on Electric Fence Wire.
Method 2: Attach Wood to the Brick Using Brick Velcro
The usage of brick Velcro, which is a popular alternative and is suggested for use outside, is still another viable option.
You can even use it safely indoors to hold up to 15 pounds in this capacity. This is dependent on your preferences as well as whether or not the Velcro adhesive bothers you.
To reiterate, you will not require any drilling tools, hammers, nails, or extra glues and epoxies to complete this project. Besides, you can choose some Chain Link Fence.
Permanent and Semi-Permanent Methods to Attach Wood to Brick Without Drilling
Not everyone is up for using brick clips and we understand that completely. Don't worry, we have got options for you as well.
Here are some more DIY picks if you're looking for other non-drilling methods of joining wood to brick.
But, first comes the size and weight of the wood that you intend to connect to the brick wall.
Take the necessary safety precautions before beginning any of the working procedures. due to the possibility of dust and chips from the wood-to-brick attachment getting into your eyes and nose.
Once you take the necessary safety precautions, you can use the working procedures.
Method 1: Nails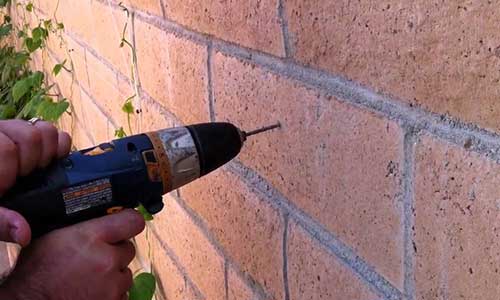 Nails are an ideal pick to fasten small, light wood objects to masonry. Nonetheless, the brick will develop holes as a result.
If you are going to temporarily place wood onto the brick, you can opt for this technique.
To begin using this installation, you must first indicate the location. The next step will be to fix the alignment of the wood on the brick wall.
Once that is done, drive the nails into the brick with a hammer.
Method 2: Adhesive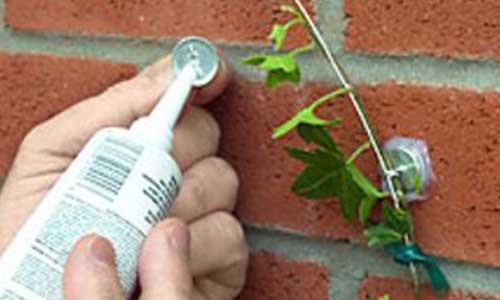 If you don't have any immediate plans to remove the wood installation, this method will work best for you.
To keep the brick and wood together, use a strong hold of glue.
Cleaning the brick area, you intend to use for the wood installation is the first step in this procedure.
To clean the spot, use a sponge and some soapy water. Allow the area to dry after cleaning.
Place the wood there and then use glue to attach it. If necessary, use a leveler.
Lastly, hold the wood that has been bonded in place until the glue has fully dried.
Method 3: Double-sided Sticky Tape
If you don't have any immediate plans to remove the wood installation, this method will work best for you.
Utilizing mounting tape on a brick wall is a different technique that works well for small and light wooden objects.
Choose a mounting tape that is simple to remove and leaves no trace.
Cleaning and letting the tape-covered surface dry are prerequisites for this technique to function.
Mark the brick when it has dried to indicate the location of the wood attachment installation.
Next, cut a good-sized piece of heavy-duty double-sided tape.
Attach them to the wall using many pieces of tape. Place them against the wall and evaluate their durability.
This technique eliminates the need for drilling and makes it simple to adhere the small pieces of wood to the brick.
You can Mount Wood on the brick wall using the techniques mentioned above. A brick clamp will work for the majority of users to hang ornamental objects up to 30 pounds in weight.
Frequently Asked Questions and Answers
1. What is the best-suited method for permanent wood installation?
Using mounting tape can be a substantial pick for attaching wood to the brick walls. These tapes provide a strong hold and can last for years. You can use layers of this tape to get a substantial grip.
2. Is leveler utilitarian in giving an even finish?
Yes.
Using a leveler can make the layers of glue adhesive even within minutes. That way, you will not need to worry about a hook coming out abruptly from its surface.
3. Is it possible to hang heavy-weighted objects without drilling the wall?
Yes.
Although drilling is the best method for hanging heavy objects, there are alternatives as well. You can hang up to 30 lbs while using mount tapes over the brick wall.
4. Can a brick clip strip the wall paint?
Yes.
Manufacturers use stronghold adhesives on the back of the brick clips. Such adhesives are quite sticky. For that, they might take off some wall paints while peeling.
5. What is the most ergonomic method when there is rarely any gap in the brick wall?
If there are little gaps between the brick wall, using Velcro is the best-suited method. The texture of the Velcro allows it to cover up those minute gaps in the wall.
6. Can Velcro take the weight of a potted plant?
Yes.
Surprisingly, Velcro can withstand a substantial amount of weight. If your potted plant weighs around 30 lbs, you can get away with Velcro without much difficulty.
7. Are brick hooks an ergonomic pick for temporary usage?
Yes.
With easy installation and removal, brick hooks are in apt for temporary utility. If you are a beginner at using a trellis, these hooks are the best way to go.
Final Words
With that, we come to an end of today's guideline on attaching a trellis to the brick wall. Our experts tried to provide ample options to skip drilling your brick wall.
Picking any of these methods will give you a substantial output with no sweat. Don't forget to share the best-suited method for you. We will love to hear from you.
Happy planting!
David, the founder of The Garden Fixer, started with a passion for gardening in 2012. He has continued his passion for gardening and desire to improve his skills and wanted to share his journey and helpful knowledge with other like-minded individuals.
He launched The Garden Fixer as an outlet for those interested in learning more about Gardening in hopes they can take what they learn and apply it for themselves!