Finding pigmented spray paints might be easy. From rock to wall- you can find paints for all surfaces. But is it that effortless to find a paint remover?
Well, the answer is a plain "no." Whether it is concealing the grass or a few strokes of color, you might need to remove the paint at any time.
Some paints can be stubborn and create a thick coat over the grass. Such paints can be hard to get rid of the lawn.
So how can we get paint out of grass? Is there any natural alternative to chemical paint removers? What is the easiest way for paint removal?
Don't be fret!
In this article, we will answer all questions and more. Our team went for in-depth research to know about different paints and ways to remove them.
Continue reading as we provide you with a comprehensive guide on how to get paint out of grass.
Paint on Grass – is it Harmful or Not?
The detrimental impact of paint on grass depends on its usage. Apart from that, using paint with safe chemical composition is a safe choice here.
Will the paint kill your lawn grass? The answer is both yes and no.
If you use plant-friendly spray paint at an optimal level, it won't harm the grass. In that sense, spray paint is not harmful to the grass.
Nonetheless, if you are not meticulous, the paint will clot the grassroots. As a result, sunlight will not be able to pass. That will result in the death of your lawn grass.
Spray Paints – The Typology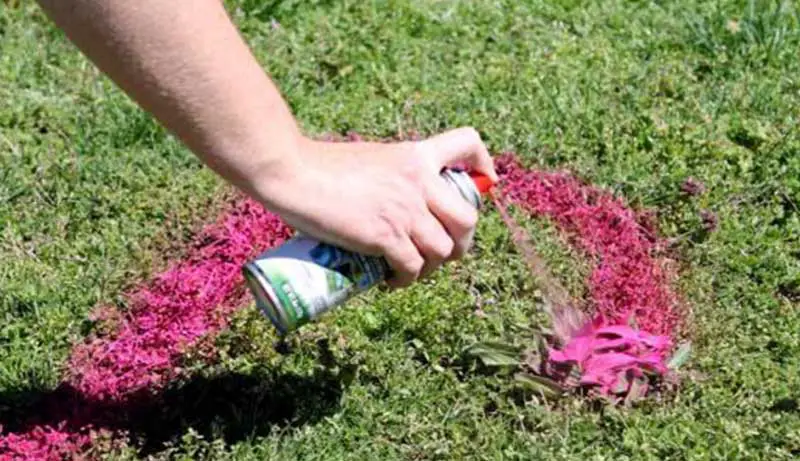 When it comes to removing spray paints, it is helpful if you understand the formation first. From water-based to oil, you can find your desired formulation of spray paint. Other than that, you can find latex spray paints as well.
Needless to say, you cannot get clean all these formulations in one way. Depending on the formulation and consistency, the washing method will be different.
For instance, dry acrylics and other water-based paints are easy to wash off. However, this is not the case with oil-based sprays. The thicker consistency of oil-based paints is stubborn when dried.
On the contrary, latex sprays take the middle ground. This paint is not as stubborn as oil paints. Nevertheless, it demands toil to get rid of the stain.
Once you are clear about the type of paint, it becomes easier to pick the right stain remover. The crucial part here is to ensure the cleaner will not harm your lawn grass.
Why and When Should I Consider Treating the Paint?
Even though you can remove the spray paint to your liking, it is imperative to follow a schedule.
Moderate application is the key while using grass spray paints. Being generous here will leave patches at different spots of the lawn. None of us wants that to happen.
But what if the spray nozzle is harsh? Opt for quick cleaning or the paint will disrupt nearer grasses.
In general, grass grows best on its own from March to May. Hence, it is better to let the grass naturally grow in this time frame. The spray paint bottle can take a back seat for now. That way, you can assure optimal grass growth.
Things to Consider While Getting Paint Out of Grass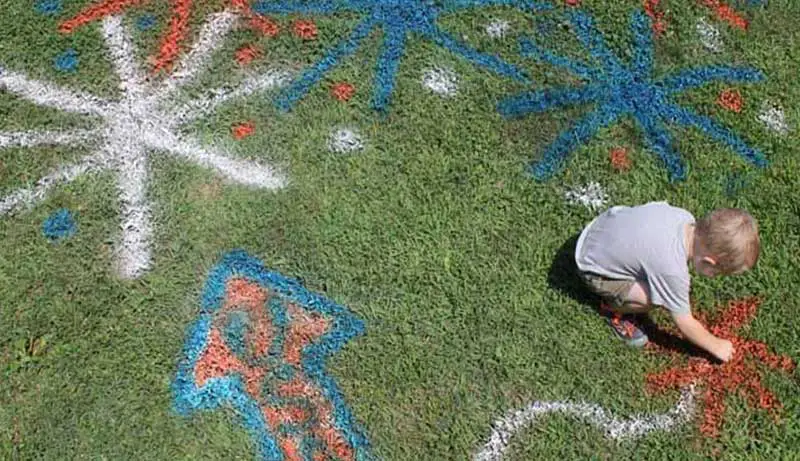 There is no hard and fast rule in removing paint from the grass. However, keeping a few aspects in mind will keep you on the safer side.
Nothing can be better than manual operation while getting the paint out of the grass. We understand it can be tiring. But the output is rewarding. So, for the best results, get your hands dirty.
We cannot stress enough the importance of picking a safe paint remover. Herefore, we always suggest you opt for an organic paint remover. If opting for inorganic removers, double check on the ingredients.
How to Get Paint Out of Grass
There is no single method to get excess paint out of the grass. You can remove the stain patches using a handful of chemicals and methods.
As we said earlier, manual cleaning is the way to get the best cleaning output. That being the case, we will first share a few manual methods to get paint out of the grass. None of these methods will cause any damage to your lawn grass.
So let's check out the manual methods first!
Lawnmower
In most cases, spray paints will cover the upper half of the grass blade. Hence, lawn mowing will get rid of all the residue.
When using a lawn mower, it is imperative to assure there is no stained grass left on the lawn. The stains will not break down in the soil otherwise.
Power Washing or Power Application
A power or pressure washer can be another method to clean the lawn grass. This simple procedure will take away all the paints without much toil.
The effective and safe way to use power washing is to keep the machine in a lower setting. Another important aspect is to control the water supply.
You will need a rapid supply of water to take off the paint. Nonetheless, an uncontrolled water supply will make your lawn messy. Thence, controlled water application is the key here.
Manual Clean
This process is most demanding and most effective as well. For this process, all you need is a toothbrush to scrub off the paint from the turf.
Nevertheless, scrubbing the paint off is applicable within a small area. Elsewise, the task will take a long time, and it is not worth the effort.
Quick Fix to Get Paint Out of Grass
If you don't want to go through the trouble of manual cleaning, there is nothing to worry. We have got some easy cleaning solutions as well.
Here are a few quick fixes to make your lawn stain-free-
Baking Soda
Mixing baking soda with water makes it an ideal paint cleaner. Getting the mixture proposition right is the challenge here.
However, we recommend using baking soda over dead or brown grass only. Using it over green grass will ultimately kill the grass. So, use the soda sparingly.
Vinegar
Everyone knows vinegar's efficacy as a cleaning agent. This kitchen essential won't disappoint you here as well.
Vinegar will take off every bit of dried paint from the grass. What makes vinegar unique is its affordable aspect. Additionally, vinegar doesn't cause any harm to nature while cleaning. All in all, vinegar is a win-win choice.
For best results, pour the vinegar into a spray bottle and use it to spread it over the lawn. Leave it for a few minutes and you can wash off the paint.
Acetone
If are acquainted with nail paints, you probably have heard of acetone. Acetone is popular for removing stains quickly and effectively.
Nonetheless, the chemical nature of acetone can harm nearby plants. Keep an eye so that the acetone doesn't reach the greener grass.
Mild Dish Wash
Dish wash can be an easy and quick fix for cleaning the paint stains. Simply mix dish wash and water in a spray bottle. You can now use this mixture to spray over the stained grass.
Many of you might think if it is safe to use dish wash on the lawn. But we are glad to inform you that it is safe to use dish wash to clean the grass. It won't disturb the growth of the grass.
Caustic Soda and Flour
While this combination is quite unconventional, it gives the desired result in no time.
To put these two in action, take caustic soda and flour in separate bowls. Now mix them with water.
Once there are no lumps left, apply the mixtures over the grass using a brush. Let the mixture dry for a while and wash it off. Don't forget to share your thoughts on this method with us!
Frequently Asked Questions & Answers
1. How can I get wet paint out of grass?
With a few simple steps, you can get the raw paint out of lawn grass. All you will need is a mild dishwasher and warm water. You can use biotin or potassium as well.
2. What is the average lifetime of the lawn grass?
The lifespan of lawn grass depends on various facets. The type of soil, the mowing techniques, and the climate determine the lifetime of the grass. Usually, it ranges somewhere between two to six months.
3. Is it safe to use Epsom salt over grass?
Yes.
It is safe to spray or apply Epsom salt over your lawn grass. The nutrients of Epsom salt help the grass to appear greener. It will help in the germination procedure as well.
4. Will the stain cause any damage to the lawn grass?
No.
When used in the right quantity, spray paint does not cause any harm to the lawn grass. So, we suggest considering the lawn area measurements before paint application.
5. Are there any safer grass cleaning alternatives?
Yes.
If you are skeptical about applying a chemical solution to treat the paint, you can skip that. Instead, you can
6. Can I remove the dried-out paint from the grass?
Yes.
It is more convenient to get rid of dried-out paint from grass. Opting for lawn mowing can be an easy way out. Elsewise, plain soap and water will do the job as well.
7. Does latex have a hazardous impact on the grass?
No.
Scientifically, latex doesn't have any harmful impact on animals and plants. Hence, latex treated paints won't cause any harm to the grass. It is okay if your pet ends up eating the painted grass.
8. Can vinegar remove the spray paint aptly?
Yes.
Vinegar is nothing but diluted acetic acid. Its chemical nature makes it an inexpensive yet effective pick for removing paints. Additionally, vinegar works on almost all surfaces.
9. Is it illegal to spray paint the grass?
No.
Using spray paint over grass does not come with any legal issues. Nevertheless, covenants around HOA might have some restrictions regarding paint usage.
Final Words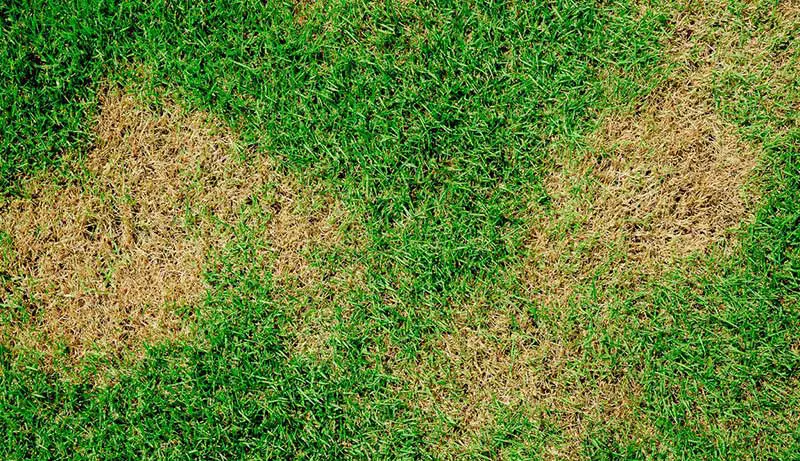 With that, it is the end of our article. We tried to provide a wide variation of paint removing techniques for lawn grass. You can pick any as per your ease.
Even though it the complicated and frustrating, the labor is worth rewarding. No matter which method you choose, make sure it doesn't cause any harm to the surrounding environment.
Good luck!
Related Post:
David, the founder of The Garden Fixer, started with a passion for gardening in 2012. He has continued his passion for gardening and desire to improve his skills and wanted to share his journey and helpful knowledge with other like-minded individuals.
He launched The Garden Fixer as an outlet for those interested in learning more about Gardening in hopes they can take what they learn and apply it for themselves!